'God Doesn't Owe Me a Day': Scott Hamilton Has Third Brain Tumor
'God Doesn't Owe Me a Day': Scott Hamilton Has Third Brain Tumor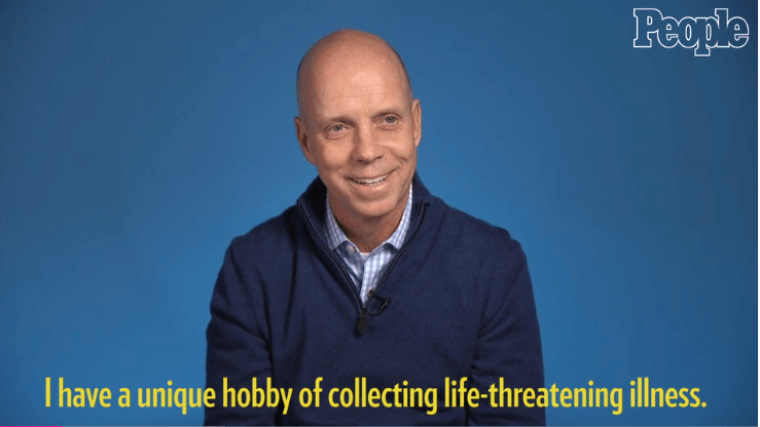 The 1984 Olympic gold medalist in figure skating Scott Hamilton has had another bout with a brain tumor — his third since 2004. The tumor is benign, however Hamilton says him and his wife, Tracie, are facing the diagnosis with optimism, come what may.
The four-time World Championship winner had testicular cancer in 1997. This year he went in for a normal check-up and doctors found the beginnings of the brain tumor, which had re-emerged, according to People. "I told Tracie, 'God doesn't owe me a day. I'm good. Whatever's next is next.' The blessings keep coming because we allow them and we ask for them."
Hamilton had previously dealt with the same tumor in 2004 and 2010. "I have a unique hobby of collecting life-threatening illness. I survived cancer in '97. Seven years later I was diagnosed with a pituitary brain tumor." After surving testicular cancer, Hamilton felt that the first tumor diagnosis was unfair. "'Great. Okay, that's not fair. I've had cancer — I get a pass for a while,'" he said.
The former figure skater said he was born with that particular kind of brain tumor, but for many years, he was not symptomatic.
In an apparent reference to his 2004 brain tumor, Hamilton said when he told his wife she began to pray for him.
"The first thing she did, without even a beat of emotion or anything else, she just grabbed both my hands and she started to pray. It was powerful, it changed everything for me because I realized where you go when you're truly up against it."
Hamilton said, "Now its six years later and it decided that it wanted an encore."
The father of four, who lost his mother to cancer and says it forever changed him, tries to "set the tone" for his family on how to deal with such health challenges. He and Tracie have two biological children and two adopted, and they try not to cause them to panic, but allow them to process the diagnosis gradually and maintain a positive outlook.
"When this one [tumor] came back, my 12-year-old son — my oldest biological son — he came to me, and he said, 'Is your brain tumor back? And I go, Yeah. And, you know, here we go again.' So I set the tone. Cancer is a tough thing and it's really just devasted a lot of families."
Hamilton puts life's challenges into perspective. "In everything we do we celebrate life. The first thing I teach skaters at my sakting academy is how to get up because we're going to fall."
"I wrote a chapter in my last book The Great Eight and it's called: Fall Down, Get Up And Smile Like Kristi Yamaguchi, and every night I watch Kristi and she took a hard fall on a really difficult jump at the beginning of one of her programs, and she got up — [snaps] like that — and went right back to her program like nothing happend. And so I'm sitting there going, 'Did she just fall or not? Okay. I'm confused 'cause she's joyful.'
He continued, "I realized in that moment there's a life lesson there. Yeah, I'm going to fall down, I'm going to make mistakes, I'm going to do all kinds of things that I wish didn't happen. But it's what's next — it's how you get up, becase the more times you get up the stronger you are to face the next thing, which will happen because that's life."