Seattle Seahawks Fans Start Campaign to Break Up Russell Wilson and Ciara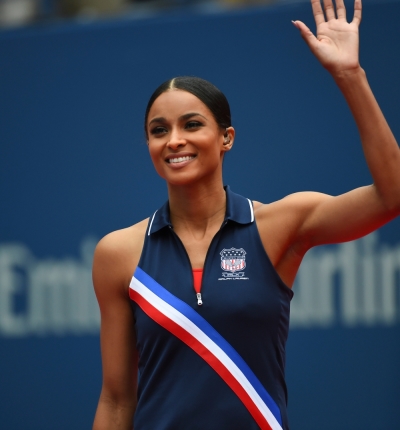 Some Seattle Seahawks fans believe the team's quarterback Russell Wilson's decision to date singer Ciara Harris is negatively impacting his game and have created a campaign to break up ther happy union.
After the Seahawks started their season with a 0-2 record, a GoFundMe campaign was created in which Seahawks fans asked for $50,000 to invest in Ciara's career, according to For The Win. The campaign has since been taken down.
In 2014, Ciara and her former rapper fiance, Future, broke things off, which some believe has helped the rapper's career. Fans of the Seahawks seem to think that if Wilson broke things off with Ciara, it could improve the team's performance.
"After seeing how great Future Hendrix's career has been since Ciara broke up with him, we think the same thing can happen to Russell Wilson," the GoFundMe campaign reportedly read before being removed.
Although Ciara has not commented on reports concerning the campaign, she re-tweeted a message from recording artist and producer Missy Elliot.
"Don't let tough times discourage u! When something big is ahead the enemy always try attack u! Let no1 stop u keep the faith," the tweet read.
Wilson also took to social media, but to post a Martin Luther King Jr. quote which reads, "The ultimate measure of a man is not where he stands in moments of comfort and convenience, but where he stands at times of challenge and controversy."
He followed the quote with his own hashtag which stated, "#NoFearJustFaith."
Before the GoFundMe campaign surfaced, some questioned if Wilson and Ciara's relationship would impact the quarterback's performance on the football field after rumors spread about singer Jessica Simpson negatively impacting Dallas Cowboy quarterback Tony Romo's performance in 2007.
Michael Irvin, the Dallas Cowboys Hall of Fame wide receiver who serves as an NFL analyst on ESPN, said he believes Wilson and Ciara are a different case than that of Romo and Simpson.
"I think they are a cute couple; they look really great together. Russell is a great dude. I love Russell. Seattle is a bit different than Dallas," Irvin told E! just before the start of the NFL season. "Tony's girl [Jessica] would show up at the game, and if she showed up and they didn't win the game [fans] would blame her, the poor girl. She didn't catch one ball or throw one pass. But that's what they did. Seattle, maybe they don't see it that way, and Russell doesn't do a whole lot of losing. It's great for him."
Although Wilson has since had two-straight NFL losses, former San Francisco 49ers coach Steve Mariucci said he believes that his character is more important than his romantic relationship.
"I believe Russell Wilson is an excellent role model for our millennials and every other generation too. The guy is the real deal," Mariucci told E!. "He is classy, he is a solid human being, and I'm glad he has a following because he is a great guy to follow. I don't know how much it matters who he is dating. Tom Brady seems to handle it just fine."