Sen. Rubio Lashes Out at Jay-Z's 'Tourist Trip' to Castro's Cuba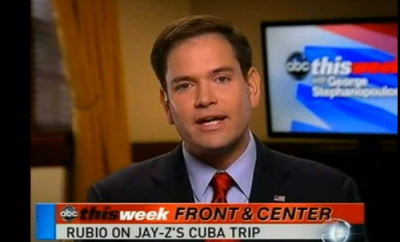 Sen. Marco Rubio (R-Fla.), lashed out at rapper Jay-Z and his wife, Beyoncé, for abusing the U.S. government's travel policies by taking a "tourist trip" to Cuba under the guise of going to the country under a cultural visa from the U.S. Treasury Department.
Rubio condemned the rapper Sunday on ABC's "This Week With George Stephanopoulos," for not educating himself about the Castro regime and its crimes against the Cuban people, and for following the trends of the Hollywood crowd who are wearing Che Guevara T-shirts.
"First of all, I think Jay-Z needs to get informed," Rubio commented. "One of his heroes was a racist. Che Guevara was a racist that wrote extensively about the superiority of white Europeans over people of African dissent. So he should inform himself on the guy he's propping up."
"Secondly," Rubio added, "I think that if Jay-Z was truly interested in the state of affairs of the people, he would've met with people who are being oppressed – including a Hip-Hop artist in Cuba who is right now being oppressed and persecuted, and is undergoing a hunger strike because if his political lyrics. And I think he missed an opportunity, but that's Jay-Z's issue."
Music moguls Shawn Carter, 43, and Beyoncé Knowles Carter, 31, traveled to Havana, Cuba, along with their mothers and two security guards, to celebrate their fifth wedding anniversary, and obtained their travel visas as an "educational exchange" that was approved by the U.S. Treasury Department.
Rubio continued: "The bigger point is the travel policies – the travel polices need to be tightened because they're being abused; these are tourist trips. And what they're doing is they're providing hard currency and funding so that a tyrannical regime can maintain its grip on the island of Cuba and I think that's wrong."
Florida Republican Reps. Ileana Ros-Lehtinen and Mario Diaz-Balart sent a letter on April 5 to Adam Szubin, director of the Office of Foreign Assets Control at the Treasury Department, requesting information about the visas the couple received and for what purpose they traveled to Cuba, since the U.S. trade embargo bars American citizens from traveling to the communist country for tourism purposes.
The Florida representatives noted that Cuba's communist regime controls the country's tourism industry and U.S. dollars spent in the country only support "a murderous regime that opposes U.S. security interests," and "ruthlessly suppresses the most basic liberties of speech, assembly, and belief." The joint letter also states that the Cuban dictatorship is "one of four U.S.-designated state sponsors of terrorism with one of the world's most egregious human rights records."
The Treasury Department responded to the lawmakers' information request and said the couple's travel was part of a program to "promote people-to-people contact in Cuba." The trip for 12 people was organized by Academic Arrangements Abroad, which is a New York-based nonprofit organization, that has also arranged travels to Cuba for the Metropolitan Museum of Art, the Brookings Institution, a left-of-center think tank, as well as Princeton, Dartmouth and Rice universities, according to Reuters.
Rep. Ros-Lehtinen also noted earlier this month that Cuba continues to harbor more than 70 fugitives from the U.S. who've sought refuge in the communist country, among them being "Joanne Chesimard, who murdered a New Jersey State Trooper, and Victor Manuel Gerena, who is on the FBI's 'Ten Most Wanted' list for a brutal armed robbery in Connecticut. The Cuban regime also continues to harbor agents from Foreign Terrorist Organizations such as the FARC and the ETA."