Senate Bill Not 'Amnesty,' Say Pro-Immigration Reform Evangelicals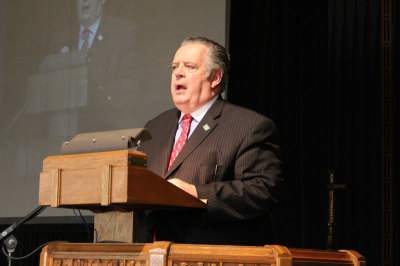 A group of evangelical Christian leaders challenged claims on Wednesday that a recent bill filed by a bipartisan group of senators on immigration reform constitutes amnesty for illegal immigrants.
The bipartisan group of four Republican and four Democrat senators formally filed the bill that if accepted into law would constitute the most significant overhaul of immigration laws in at least 26 years. The bill's hallmark feature is the inclusion of a 13-year pathway to citizenship for almost 11 million undocumented immigrants in America.
Critics of the bill, cited mainly as Republicans, have argued that the pathway to citizenship in the bill is its "fatal flaw" and constituted amnesty.
"It legalizes almost everyone in the country illegally, also known as amnesty, before it secures the border," Rep. Lamar Smith of Texas recently told the New York Times. "As a result, the Senate proposal issues an open invitation to enter the country illegally."
On Wednesday, however, leader of the Evangelical Immigration Table and president of the Ethics and Religious Liberty Commission Richard Land told CNN that anyone who claims the bill provides amnesty needs "a course in remedial English."
"From what we understand, the bill that dropped this morning (Wednesday) has accountability for those who are here in an undocumented status," said Land. "It provides an earned pathway to full legal status and then to citizenship for those who want it. That is not amnesty in any dictionary in the English language."
The bill, which has attracted the support of President Barack Obama, was also endorsed by The National Hispanic Christian Leadership Conference, the nation's largest Christian Hispanic organization.
The Rev. Samuel Rodriguez, NHCLC president, applauded the bill and is expected to join the Senate's gang of eight as they outline their proposal in a press conference in Washington, D.C., according to a statement from that organization.
"Engaging a biblical narrative as a metaphor, the immigration cause no longer resides in the Egypt of political apathy or the desert of inevitable deportation," said Rodriguez.
"Today, this just cause stands before the 'Jordan' called reform. With prophetic courage, spiritual fortitude and political will, we will cross into the promise land of integration thus protecting our values, borders and dream," he added. "Ironically the same issue that once polarized our nation now serves as a conduit for bipartisan collaboration. Now is the time."
Board member of the NHCLC Dr. Carlos Moran also noted: "As evangelicals, as born again believers, as the spiritual heirs to the mantles of Billy Graham and Dr. Martin Luther King Jr., we affirm our conviction that it is the time to reconcile border security with security of our values; values that include faith, hope and charity."
The new bipartisan bill, among other things, eliminates the diversity visa program starting in 2015 and replaces it with a merit-based visa category based on family ties and work skills.
Senate hearings on the bill will begin Friday.