Senate Offers Citizenship, Sweeping Overhaul in Immigration Bill Proposal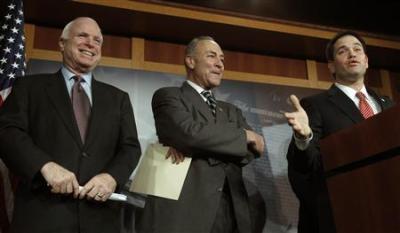 In what is viewed as the most sweeping overhaul in immigration law in at least the last 26 years, a bipartisan group of eight senators unveiled a bill on Tuesday that will map a 13-year pathway to citizenship for almost 11 million undocumented immigrants.
A recent Washington Post report highlighted the 13-year pathway to citizenship as among several key features of the proposal the group of four Republican and four Democratic senators are expected to unveil.
Under the proposal, the undocumented immigrants will be able to apply for a Green Card after 10 years and citizenship three years after that. But first, they would need to pay a $1,000 fee, back taxes, learn English, keep a job and pass criminal background check. Dream Act youth would be able to obtain Green Cards in five years and citizenship immediately after that point.
The proposal is also expected to eliminate the diversity visa program beginning in 2015 and create instead a new merit-based visa category based on family ties and work skills.
Eighteen months after the law takes effect, visas reserved for foreign brothers and sisters and married children older than 30 will also be eliminated. An unlimited number of visas will be allowed, however, for foreign spouses, children and parents of U.S. citizens and permanent legal residents.
Visas for highly skilled engineers and technology workers, known as the H-1B, are also doubled from 65,000 to 110,000 per year in the proposal. In future years that cap may increase to as much as 180,000. Employers with large numbers of H-1B visas will be required to pay higher salaries and processing fees.
In addition to changes related to the guest worker and the farm worker programs, the proposal also requires the Department of Homeland Security to invest up to $5.5 billion over ten years in border control efforts.
A New York Times report lists Thomas J. Donohue, the president of the U.S. Chamber of Commerce, and Richard L. Trumka, the president of the A.F.L.-C.I.O., as supporting the proposal. Al Cardenas, the chairman of the American Conservative Union; Clarissa Martinez de Castro of the National Council of La Raza, a Latino organization; and longtime antitax advocate Grover Norquist are expected to show their support as well.
Opponents of the proposal, chiefly Republicans, according to the report, are likely to focus on the path to citizenship for undocumented immigrants, which they argue is amnesty and "a fatal flaw."
"It legalizes almost everyone in the country illegally, also known as amnesty, before it secures the border," Rep. Lamar Smith of Texas told the Times. "As a result, the Senate proposal issues an open invitation to enter the country illegally."