'Shame' Be on Lawmakers Who Skip Netanyahu's Speech, Says Christians United for Israel; Obama, Kerry Refuse to Meet With Israeli PM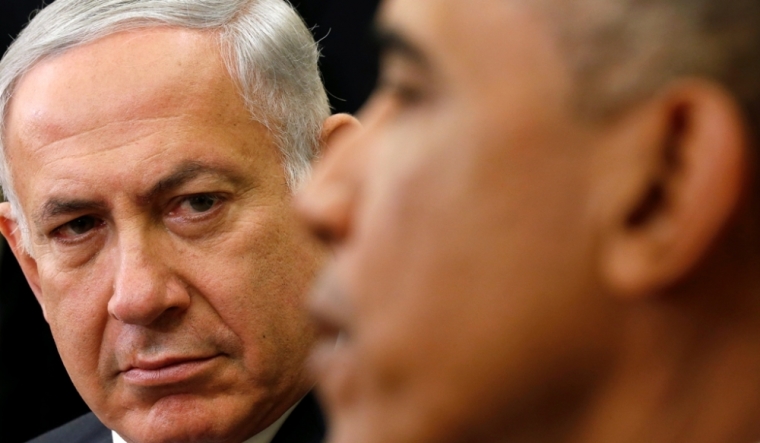 A pro-Israel group says "shame" should be on any member of Congress who decides to skip next month's address by Israeli Prime Minister Benjamin Netanyahu.
Last month, Speaker of the House John Boehner, R-Ohio, invited Netanyahu to address a joint session of Congress regarding the possible removal of economic sanctions against Iran.
"Israeli Prime Minister Benjamin Netanyahu makes the case for renewed Iran sanctions with greater expertise and insight than any other leader on the world stage today," David Brog, executive director of Christians United For Israel, told The Christian Post.
"Hearing Netanyahu before making a decision on an issue this critical to our future is not just an opportunity, it's a responsibility."
Brog also told CP that he approves of Boehner inviting Netanyahu, saying that it "showed real leadership" on the part of the Republican Congressman.
"Shame on any member of Congress who casts a vote against sanctions without even listening to this opposing view," he asserted.
Brog's comments came as news broke that many Democrat members of Congress and the executive branch might skip Netanyahu's speech next month.
Edward-Isaac Dovere and Jake Sherman of Politico wrote Tuesday that certain Democrat congressmen and Vice President Joe Biden will likely be absent.
"Dozens of House Democrats are privately threatening to skip the March 3 address, according to lawmakers and aides, in what's become the lowest point of a relationship between the Israeli prime minister and President Barack Obama that's never been good," Politico reported.
"Netanyahu's already been denied an Oval Office meeting with Obama. Secretary of State John Kerry has no plans to meet with him while he's in town …"
This has led some, including the Republican Party, to argue that their ideological opponents suffer from an "Israel problem."
"Our relationship with Israel is important to our country and our party. Between this and their positioning on Iran, Democrats clearly have an Israel problem," said a GOP source to CP.
When asked by CP if he thought Democrats did indeed have a such a problem, Brog responded that many Democratic leaders still supported Israel.
"When it comes to Israel, there are still many voices of reason in the Democratic party, and Sen. Bob Menendez, D-N.J., is prominent among these," said Brog.
"But if the party blindly follows the president's lead on Iran and Israel — without even listening to opposing arguments — then they'll not only have an Israel problem, they'll soon have an America problem."
In his State of the Union, Obama made it clear that he felt the U.S. shouldn't impose sanctions on Iran as talks over the Islamic nation's nuclear program continue.
"New sanctions passed by this Congress, at this moment in time, will all but guarantee that diplomacy fails, alienating America from its allies, and ensuring that Iran starts up its nuclear program again," Obama said last month.
"It doesn't make sense. That is why I will veto any new sanctions bill that threatens to undo this progress."