World Leaders Join 1.6 Million People in France's Unity March Against Terrorism; 2.5M Marchers in Other Cities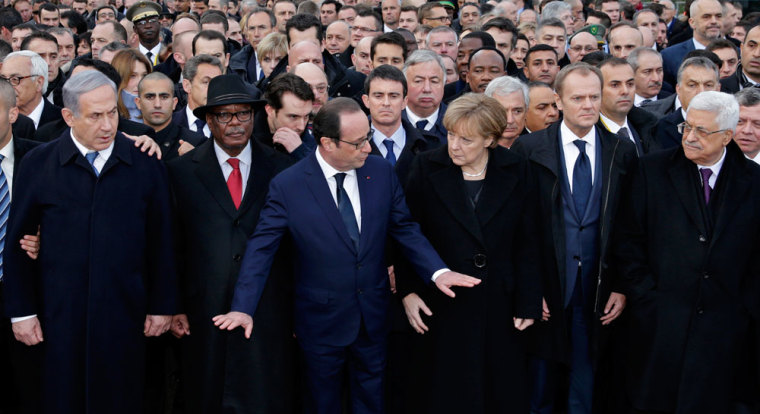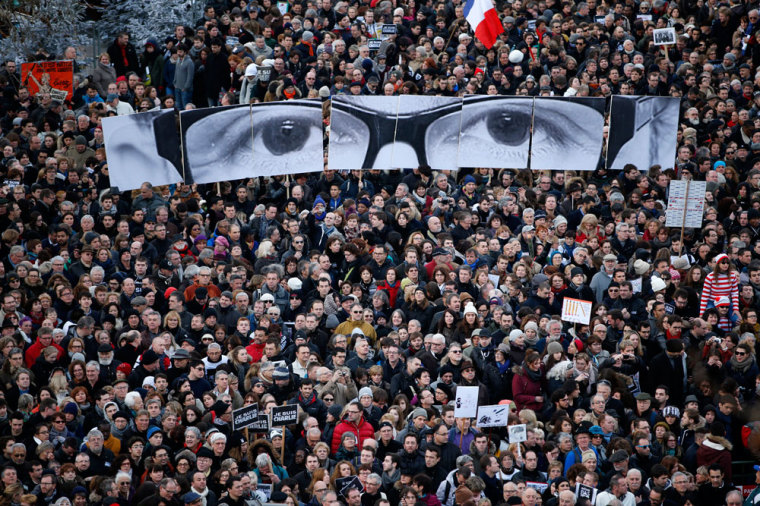 View Photos
World leaders, including presidents and prime ministers, led more than a million people through Paris on Sunday to show their solidarity against terrorism days after the Charlie Hebdo massacre. U.S. Attorney General Eric H. Holder Jr. attended the French Interior Ministry's security summit, but not the rally.
The rally, led by French President François Hollande, German Chancellor Angela Merkel, British Prime Minister David Cameron, Italian Prime Minister Matteo Renzi, Israeli Prime Minister Benjamin Netanyahu and Palestinian Authority President Mahmoud Abbas, came days after 17 people, including journalists and police, were killed in three days of violence that began Wednesday with an attack on the satirical weekly Charlie Hebdo.
Leaders from more than 40 nations participated in the march, with about 2,200 police and soldiers patrolling the streets of Paris and police snipers keeping a watch from rooftops, according to The Associated Press.
"Paris is today the capital of the world. Our entire country will rise up and show its best side," Reuters quoted Hollande as telling the people, some of sang the "La Marseillaise" national anthem.
The United States was represented only by its ambassador to France, Jane D. Hartley.
"The most important is the Europe of values, of culture, of ideals and that is the reason we are here," Renzi was quoted as saying.
"In the same way that the civilized world stood today with France against terror, so it must stand with Israel against terror," Netanyahu reportedly said at a ceremony in a Paris synagogue.
"We in Britain face a very similar threat, a threat of fanatical extremism. It's a threat that has been with us for many years and I believe will be with us for many more years to come," Sky News quoted Cameron as saying.
The French Interior Ministry called the rally the biggest ever in the country, and said the demonstrators were so many that they couldn't be contained within the official march route.
About 1.6 million people marched in Paris and an additional 2.5 million in other cities, the ministry said.
Netanyahu and Abbas had a face-to-face meeting at the rally for the first time in four years.
The attacks in France ended Friday after police killed brothers Cherif and Said Kouachi, the two alleged gunmen in the Charlie Hebdo attack, in a standoff later just outside Paris where they had taken a woman hostage.
Police also killed Ahmedy Coulibaly, a gunman involved in a deadly standoff at a kosher market in eastern Paris Friday. The gunman had already killed four hostages.
Earlier in the day the French Interior Ministry held what it described as a security summit meeting, bringing together top intelligence and law enforcement officials from across Europe and North America to discuss ways to prevent terrorism.
Earlier on Saturday, Attorney General Holder attended the security summit in Paris and announced that the White House would convene an international forum on Feb. 18 to discuss new means of countering terrorism.
The meeting would address domestic and international measures "to prevent violent extremists and their supporters from radicalizing, recruiting or inspiring individuals or groups in the United States and abroad to commit acts of violence," according to The White House.
Holder did not participate in the rally.
Terrorist group Al Qaeda in the Arabian Peninsula claimed responsibility for the Charlie Hebdo attack.
"The leadership of #AQAP directed the operation, and they have chosen their target carefully as a revenge for the honor of Prophet," the terror network said in a statement issued to the Intercept, claiming responsibility for the Charlie Hebdo massacre. "The target was in France in particular because of its obvious role in the war on Islam and oppressed nations."
Before his death, Cherif Kouachi told French channel BFM-TV on phone that he was financed by al Qaeda preacher Anwar al Awlaki in Yemen, an international recruiter who was killed in September 2011 in a drone strike.
"I was sent, me, Cherif Kouachi, by Al Qaeda of Yemen. I went over there and it was Anwar al Awlaki who financed me," he said.
Coulibaly also separately called BFM-TV, and said he wanted to defend Palestinians and target Jews. He also said he is linked to Islamic State, or ISIS, and alleged he had jointly planned the attacks with the Kouachi brothers.
The Kouachi brothers were known to the intelligence agencies having tipped off by U.S. intelligence agencies. French authorities placed Said Kouachi under surveillance from November 2011 to June 2014, and his brother Cherif until the end of 2013.