Shot Senior's Graduation: Faith and Forgiveness Amid Miracle Recovery From Gunshot to the Head (VIDEO)
'I'd Like to Thank God, He is So Good to Me,' Testifies High School Senior After Being Shot in Head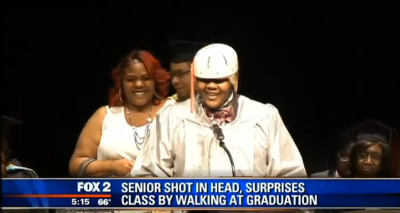 A high school senior who was shot in the head two months ago has amazingly recovered to attend and give a speech at his high school graduation in Detroit, and in doing so testified that his miraculous recovery was only possible thanks to God.
Just two months ago, Northwestern High School student, Balaal Hollings, was lucky to survive, after being shot in the head while attempting to break up a fight at a house party. However, in the aftermath of the incident, the medical prognosis was not good, and he was told he may never walk or talk again.
But amazingly, Hollings has made a miraculous recovery in a short space of time and he recently walked across the stage at his high school graduation and even gave a short speech to the graduating class.
Holling started his graduation address by saying, "First of all I'd like to thank God; He is so good to me."
Hollings was a hugely popular figure in his high school; gaining positions as the senior class president, student government president, as well as homecoming king. He was even a football star at the high school.
However, following the horrific shooting he lost out on a football scholarship to a Wisconsin school.
Hollings has said, "Only two months and I'm walking and talking and fully rehabilitated, so it got to be God."
The extraordinary sight of seeing their popular classmate returning to school to graduate was too much for some, who allowed emotions get the better of them. One classmate said afterwards, "He made me cry today."
Another said, "Overwhelming. I was very happy to see him come out there."
Hollings has revealed amazing strength and faith to see beyond the tragedy that will surely change his life forever. The promising football player had aspirations to make it professionally, but he has since said that God must have other plans, and that's ok with him.
Hollings, who has been given a $50,000 scholarship, has said, "I'm going to take pre-law or criminal justice."
He also explained that he holds no grudges against the person who shot him: "People always ask me what would you say if you met the person face-to-face who shot you? And I would tell them, 'I love you, and I forgive you'."
Here is a video news report into Hollings' amazing testimony at his high school graduation: