Sisters dropped by human smugglers over 14-foot border barrier are OK, Border Patrol agent says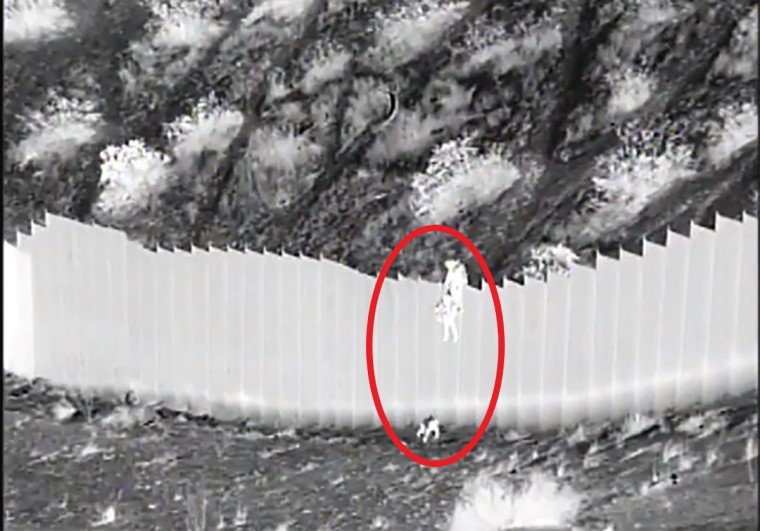 Two toddler girls who were dropped over a 14-foot border barrier in New Mexico Tuesday night are "doing well," according to El Paso Border Patrol Sector Chief Gloria Chavez. 
After two human smugglers dropped the young girls, identified as two Ecuadorian sisters aged 3 and 5, over the U.S. side of a remote desert area in Santa Teresa, New Mexico, the girls were immediately transported to the Santa Teresa Border Patrol Station for medical evaluation after being rescued by U.S. Customs and Border Protection agents, according to the agency. 
The two sisters are "doing fine" after being dropped by smugglers over the southern border wall, Chavez told Fox News host Neil Cavuto on "Your World" Thursday. Chavez said she was "really horrified and appalled and worried" when she initially saw the footage.
After the first girl was dropped to the ground and didn't immediately move, Chavez said she was concerned that she'd hit her head and was unconscious. Then, after the second child was dropped, Santa Teresa agents responded to the remote location to rescue the children.  
Chavez credited the agents and mobile [surveillance] technology" for finding the girls who were dropped in the middle of the desolate and mountainous desert, "miles from the closet residence."
She also raised concerns that human smugglers will be dropping off children in remote and rocky areas like the New Mexico desert, which would make it logistically difficult for border agents to reach them. 
The smugglers also dropped over the barrier a bag containing a phone, phone number and the girls' passports. Through this, agents were able to get in touch with the girls' mother, who lives in New York.
Chavez visited with the girls whom she described as being "so loving and so talkative," and asked the names of the agents around them. They were hungry, so Chavez helped them peel a banana and open a juice box.
"You know, children are just so resilient, and I'm so grateful that they're not severely injured or [have] broken limbs or anything like that," Chavez added.
Chavez has worked in border security for over two decades and stressed that human smugglers devalue human life and are in the business only for money. 
Rep. Henry Cuellar, D-Texas, noted in a recent interview with Sharyl Attkisson that "... anytime they bring somebody over, they make an average of $6,000. But let's say a hundred thousand that we saw in February at $6,000. What does that add up to? [It's] $600 million in one month ... that's not a bad profit. So the ones who are really winning over this ... suffering of the young people and the migrants, are the drug organizations."
Chavez added in her interview with Cavuto: "We need to protect [the children]. We need to keep them safe and fed and clean. That's our number one priority. But when we see images like this, I am telling you, I am appalled. I committed myself to working with law enforcement [on] the south side in Mexico. I want this guy [who smuggled them]. I want us to identify him, and I want us to prosecute him. And we are working very closely with the government of Mexico to do just that."
The Mexico border is primarily run by cartels who work independently and with other smuggling operations to traffic people from around the world into the U.S.  
"Human beings are a commodity to these ruthless smugglers," Chavez said. "We know their tactics. … For them, it's just a profit."
Smugglers recently threw a 6-month-old baby girl into the Rio Grande along the Texas-Mexico border and she was saved by Texas Rangers in March.
The recent surge of immigrants at the southern border has caused border agents to struggle in securing the border and monitoring illegal operations. 
CBP estimates up to 184,000 unaccompanied minors could cross the U.S. southern border in the fiscal year 2021. 
Border crossings reached the highest level in 15 years, and over 171,000 migrants were taken into custody along the southern border in March. 
In February, Customs and Border Control detained 100,441 people, including 71,598 single adults, nearly 9,500 unaccompanied minors, and 19,246 individuals in family units. This marked a 28% increase from January when over 78,000 individuals were detained. 
In the wake of criticism from congressional Republicans, members of the Biden administration have attempted to send a message to migrants seeking to enter the U.S. Homeland Security Secretary Alejandro Mayorkas stressed that "we are saying don't come now," although his plea was preceded by an assertion that "we are not saying don't come" at all. 
Weeks later, Mayorkas said on ABC's "This Week": "The message is quite clear, do not come. The border is closed, the border is secure."
"We are encouraging children not to come," he added. "Now is not the time to come. Do not come. The journey is dangerous. We are building safe, orderly and humane ways to address the needs of vulnerable children. Do not come."
On March 6,  Texas launched Operation Lone Star to fight the rise in drug smuggling and human trafficking across the border.
"The crisis at our southern border continues to escalate because of Biden Administration policies that refuse to secure the border and invite illegal immigration," Texas Gov. Greg Abbott said in a statement at the time.
CBP noted that the 100,441 people detained in February and 78,442 detained in January marked a drastic increase from the 36,687 and 36,585 detentions in January and February 2020. 
"The border is wide open … it's not secure. Drugs are pouring in, and criminal aliens are pouring in right now," former CBP Commissioner Mark Morgan, who served under President Donald Trump, said during a March 30 press conference along the Rio Grande, The Epoch Times reported.