Sixth Circuit Decision to Uphold Gay Marriage Ban Part of Trend in Favor of Traditional Marriage, Conservatives Say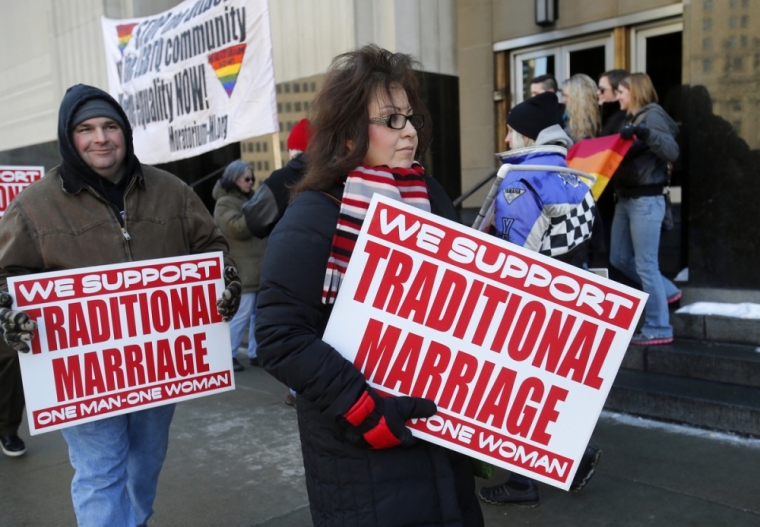 A recent decision from the Sixth Circuit Court of Appeals declaring state constitutional amendments banning gay marriage are not a violation of the U.S. Constitution is part of a trend in opposition to redefining marriage, Brian Brown and Tony Perkins argued.
The appeals court ruled in a two to one decision Thursday that the state bans of Kentucky, Michigan, Ohio and Tennessee were constitutional.
Tony Perkins, president of the Family Research Council, said in a statement that the Sixth Circuit ruling was part of a changing trend in the marriage definition debate.
"As the debate continues, recent polls and the election demonstrate that support for marriage redefinition is stalling as Americans begin to experience and consider the consequences for religious freedom, free speech, and parental rights," stated Perkins.
"And as more and more people lose their livelihoods because they refuse to not just tolerate but celebrate same-sex marriage, many Americans are beginning to see that this is about far more than the marriage alter, but is about fundamentally altering society."
Brian Brown, president of the National Organization for Marriage, noted other events in recent days that came as the Sixth Circuit rendered its ruling.
"In Ohio, advocates of gay 'marriage' have pulled a ballot petition because of the fear they will lose. In North Carolina, a poll last week showed that support for traditional marriage stood at 72%, an eleven point increase over the 61% of voters who passed their marriage amendment," stated Brown.
"Marriage just played a central factor in the defeat of both U.S. Senators Kay Hagan, N.C., and Mark Pryor, Ark., not to mention numerous other candidates, including several Republicans, who favor redefining marriage."
On Thursday, the Cincinnati-based Sixth Circuit ruled that states can ban gay marriage, thus overturning lower-court decisions in Kentucky, Michigan, Ohio and Tennessee.
Circuit Judge Jeffrey S. Sutton authored the majority opinion, being joined by Circuit Judge Deborah L. Cook. Senior Circuit Judge Martha Craig Daughtry wrote a dissent.
The decision conflicts directly with federal appeals courts in the Fourth, Seventh, Ninth, and Tenth Circuits, according to Lyle Denniston in the SCOTUSblog.
"[The decision is] precisely the kind of division of judgment that ordinarily will lead the Supreme Court to step in to resolve the split, especially on an issue of fundamental constitutional significance," wrote Denniston.
Byron Babione, senior counsel with the Alliance Defending Freedom, argued that the Sixth Circuit decision was consistent with the U.S. Supreme Court decision Windsor vs. United States.
While Windsor struck down a crucial component of the federal Defense of Marriage Act, it left open the issue of state-level bans on gay marriage.
"The people of every state should remain free to affirm marriage as the union of a man and a woman in their laws," stated Babione.
"The 6th Circuit's decision is consistent with the U.S. Supreme Court's acknowledgement in Windsor that marriage law is the business of the states."