Slain Milwaukee Police Officer Remembered for Sharing His Faith, How God Saved Him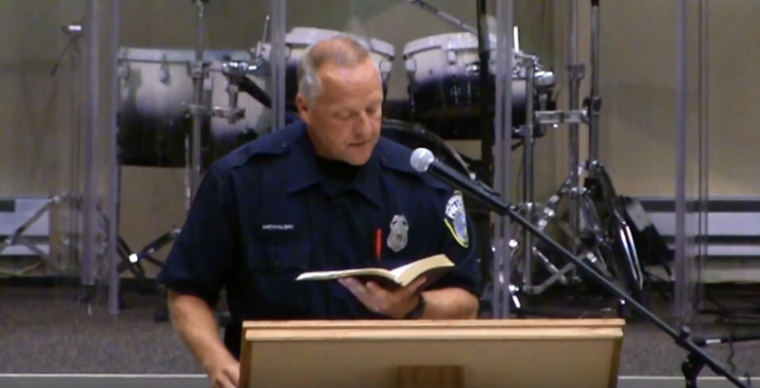 Milwaukee police officer Michael Michalski was shot and killed in the line of duty Wednesday.
Speaking to the media, Milwaukee Police chief Alfonso Morales said Michalski was one of the officers assigned to look for a suspect who was wanted for a parole violation, heroin possession, and domestic violence-related offenses.
The officers spotted the suspect running home. The suspect then fired "multiple times" at the police officers, said Morales. The officers returned fire and were able to take the suspect into custody, but not before Michalski was shot.
Michalski was taken to Froedtert Hospital in Wauwatosa with "serious injuries." The life-saving efforts administered to Michalski were unsuccessful and he died from his injuries.
He was 52 years old.
Prior to his death, Michalski had become known around Milwaukee as a man dedicated to serving not just the community, but God as well.
Two years ago, Michalski spoke at the Desatar Ministry and talked at length about the impact God has had on his life and how his love for Him has changed the way he sees people.
You can watch a video of Michalski speaking at the Desatar Ministry below.
Onstage, Michalski spoke about how the voice of God "pierced" him and how that fateful moment led to his senses being opened and his soul being saved.
Michalski admitted that, earlier in his life, he harbored hate in his heart for the drug dealers, drug users, gang members and prostitutes who were in the area he was serving. He also admitted to believing that he was better than all of them.
He shared that it wasn't until he realized that he, too, had sinned that he came to understand he was no different from those he had judged. He also credits God with taking away the anger and hate that had built up inside of him.
Michalski added, "Salvation is the most important thing in the world."
Funeral arrangements have now been made for Michalski. Services will be held on Aug. 1 at the Oak Creek Assembly of God.
Visitation will be held from 11 a.m. to 3 p.m. and the service will begin at 3 p.m., The Milwaukee Journal Sentinel reported.
The Milwaukee Police Department has set up a GoFundMe page for Michalski's family and donations that have come in have already exceeded the goal.
Michalski leaves behind his wife, Susan, and three sons, Andrew, John and Josh.