'Slender Man' Stabbing Victim Back at School and Doing Well Nearly One Year After Attack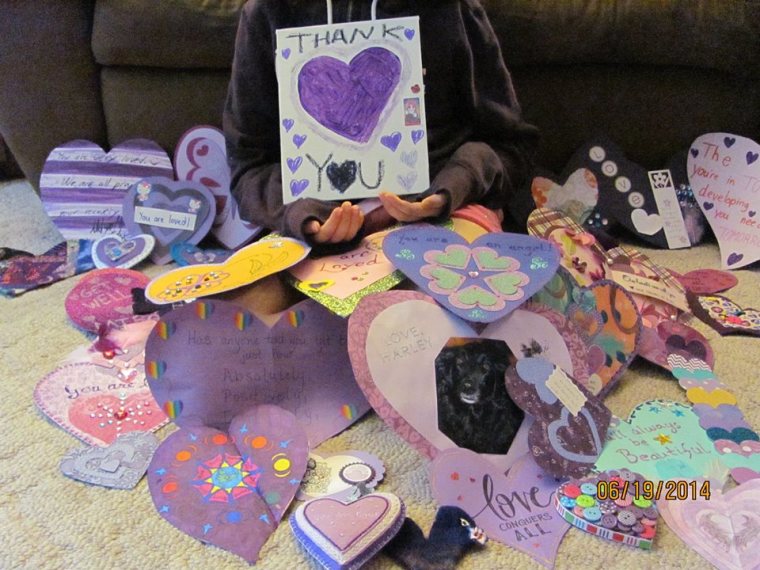 The 13-year-old at the center of the "Slender Man" stabbing is back in school and enjoying her life, thanks to support and prayers from family and friends.
Payton Leutner is enjoying spending time with her family and friends, including celebrating her 13th birthday, after nearly being murdered by two former friends in the Milwaukee, Wisconsin, suburb of Waukesha on May 31, 2014.
Leutner, then 12, and Morgan Geyser and Anissa Weier, were believed to have been having a slumber party when Geyser and Weier led Leutner out into the woods, stabbed her repeatedly 19 times, then left her for dead. Leutner somehow managed to crawl out of the woods just enough for a passing cyclist to see her and get help, thereby preventing her death.
Now Weier and Geyser are in court, where a judge will determine whether to charge them as adults or minors. The Leutner family has been in court, listening to every harrowing detail and seeing new evidence of the girls' plan. Reports state that Geyser had written a list of needs in order to carry out the deed and her home contained several disturbing sketches and mutilated Barbie dolls. If the two girls face murder in the first degree as adults, they could face a possible penalty of 60 years in prison.
"They have faith that justice will prevail," family attorney Steve Lyons told Daily Mail Online. "They have worked so closely with the district attorney but they haven't commented on whether they believe the girls should be tried as adults. As difficult as it is to hear these horrific acts, they've worked so closely with the DA that there's very little they weren't aware of. To hear it and see it at the proceedings is horrific but it's helping them with the healing process."
As for Payton, she's "doing very well at school," Lyons added. "She's working hard and enjoying her studies. Physically, her wounds have healed and she's strong. Emotionally, it's going to be a lifelong process and they're taking it one day at a time."
Weier and Geyser allegedly believed in the tale of the Slender Man, a character that originated as a meme in 2009. Slender Man targets children and can cause memory loss, insomnia, and paranoia. Geyser, in particular, believed that Slender Man would kill her family if she did not take another life; her lawyer has argued that the teen is not mentally competent to stand trial as an adult.