'Small Lifeless Bodies' of Migrant Children Who Failed to Make It Across US Border Washing Up on Banks of Rio Grande
'Small Lifeless Bodies' of Migrant Children Who Failed to Make It Across US Border Washing Up on Banks of Rio Grande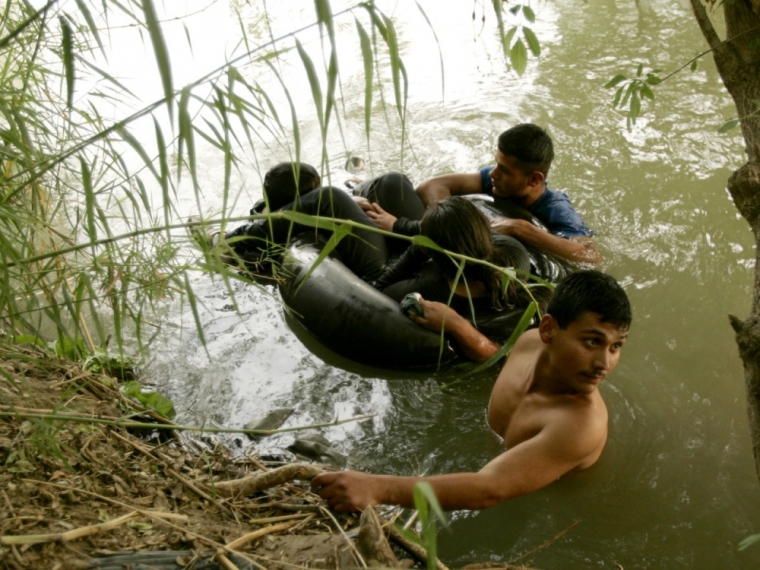 A number of immigrant children seeking to illegally cross the Rio Grande, a natural border between the United States and Mexico in Texas, have been dying in the process and their bodies are reportedly being washed up along the river bank leaving those who knew them with nothing but grief.
A FoxNews.com report said the unending wave of illegal immigrants have been flooding across the river and eagerly surrendering to overwhelmed Border Patrol agents while littering the banks of the Rio Grande, just south of Mission, Texas, with all sizes of life jackets, occasional punctured rafts and in the most heartbreaking of cases "small, lifeless bodies."
"The life jackets helped many make it across the Rio Grande from Reynosa, the Mexican city across the water from Mission, just west of McAllen," explained the Fox News report. "Sources say they come over on rafts ferried by the so-called 'coyotes,' the human smugglers whose means of transport are rendered useless whenever discovered by the Border Patrol. Many don't make it across the river; multiple sources became emotional when recounting their discoveries of small, lifeless bodies washed up along the riverbank," it continued.
In a tour of the border with GOP Texas Congressman Louie Gohmert in the wee hours of Saturday morning, foxnews.com highlighted that that section of the U.S.-Mexico border had become "the most heavily-trafficked people-smuggling route in the world;" but it is now severely understaffed by Border Patrol agents.
"I'm more concerned than ever [that the border is] so seriously undermanned and I'll be raising hell in Washington," said Gohmert during the tour.
"FoxNews.com witnessed the seemingly endless parade of illegal immigrants as they turned themselves in to agents and climbed into the vans. One mother teared up when telling FoxNews.com of her family's perilous journey from Honduras," said the report. "Some said the trip took as little as two days, others said they'd been traveling for months."
According to a Border Patrol source: "They just keep on coming."
A weekend editorial in The New York Times urged Congress to approve President Obama's request for $3.7 billion to address the border crisis.
"There is a reasonable way to confront the influx of Central American children at the southern border, and the White House is getting it mostly right," noted the Times.
"It has asked Congress for $3.7 billion in emergency funds to pay for more immigration judges, for legal assistance to children and parents, and to help care for tens of thousands of children in shelters in Texas and elsewhere," it continued.
"The request would be a good step toward tackling the problem, though it should have included much more for immigration lawyers and humanitarian aid, and less for agents and drones at the border. Congress should swiftly approve it, since it contains pretty much everything that lawmakers — even President Obama's Republican critics — have been demanding," the Times claimed.