Some Christian Leaders Slam Paula White for Saying Jesus Wasn't an Illegal Refugee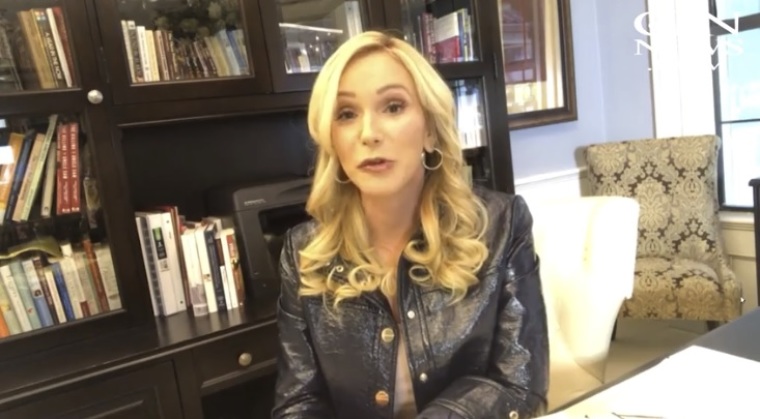 Both conservative and left-leaning Christian leaders are speaking out in response to President Donald Trump's spiritual adviser, Paula White, after she claimed in a recent interview that Jesus as a child refugee was different than refugees crossing into the United States illegally today.
"Maybe there should be a moratorium on Protestants quoting or citing the Bible when discussing border policy or immigration," Mark Tooley, president of the Washington-based think tank Institute on Religion & Democracy, wrote in a blog post Tuesday. "Whether conservative or liberal, the end result is typically unpleasant." 
In an interview with the Christian Broadcasting Network, White detailed her recent trip to a foster facility for undocumented immigrant children in Virginia and was asked if her trip made her think of any scriptures. She didn't specifically mention any scriptures but went on to criticize those who she claims are using the Bible "out of context" in their opposition to Trump's policies.
"I think so many people have taken biblical scriptures out of context on this, to say stuff like, 'Well, Jesus was a refugee,'" White, the senior pastor at New Destiny Christian Center in Apopka, Florida, said. "Yes, He did live in Egypt for three-and-a-half years. But it was not illegal. If He had broken the law then He would have been sinful and He would not have been our Messiah."
White's argument drew the ire of some Christian scholars, leaders and activists.
Tooley, a conservative Methodist scholar, argued that while baby Jesus and his family could have fled legally within the Roman empire from Israel to Egypt, White misused Scripture "to support current border policies."
"We Protestants in our politics often want to think we have direct guidance from Him on public policy issues, as proven by a few select Bible verses we learned in Sunday school," Tooley wrote. "But the Bible almost never gives us such detailed counsel for contemporary statecraft. Instead we have Scripture, the church and Christian tradition offering broad principles about human dignity and divine justice that should inform our debate and decision making."
Matthew Soerens, the director of church mobilization at the evangelical refugee resettlement organization World Relief and a national coordinator for the Evangelical Immigration Table, told the Huffington Post that the concept of illegally entering a country didn't apply during Jesus' time because it was before the creation of the modern visa-issuing nation-states.
"We have no reason from the text to think that his parents requested refugee status in advance of their flight," Soerens, a critic of the Trump administration's illegal immigration and refugee resettlement policies, explained. "Much like many Salvadoran or Honduran families today who are fleeing gang violence, their response to a credible threat to their family's safety was to try to reach a foreign country where they would be safe, protected from those seeking to do them harm."
Soerens also pushed back on White's notion that breaking a government's immigration laws is considered "sinful."
"The Bible does give Christians instructions for relating to the civil authorities in ways that honor the law, but it never claims that all laws are just or should be obeyed," Soerens said. "In a democratic form of government, being 'subject to the governing authorities' as Paul writes in Romans 13:1 includes advocating peacefully for laws that are more just, with a particular concern for those who are marginalized, including those fleeing persecution."
John McCullough, president of the refugee resettlement agency Church World Service, also told the Huffington Post that there was no evidence that Jesus and family were "legally admitted" into Egypt.
"Fortunately, the Egyptian authorities did not exercise any kind of zero tolerance policy," McCullough argued.
Far-left Christian social justice activist and NAACP leader Rev. William Barber, a minister with the Christian Church (Disciples of Christ), also weighed in but suggested that Jesus was a law breaker.
"Jesus was a refugee & did break the law," Barber wrote in a tweet. "He was crucified as a felon under Roman law. Christian nationalists like @Paula_White are enabling injustice w/ biblical interpretations that echo #SlaveholderReligion."
Left-leaning Jesuit priest James Martin, editor at-large with American Magazine, agreed with Barber and added that Jesus broke religious and civil laws.
"No. Jesus 'broke the laws' both religious and civic, several times, which is one of the reasons he was crucified," Martin stated in a tweet. "He healed on the Sabbath, permitted his disciples to pluck grain, had contact with the unclean, and so on. Plus, he was indeed a refugee."
Although Tooley was critical of White's comment, he claimed that the Christian leaders who are hammering the argument that Jesus broke the law and was crucified for it are missing the point that Jesus was "the very fulfillment and perfection of the law."
"His enemies distorted the law with their own self-serving pharisaic interpretations, which He repeatedly admonished," Tooley wrote.
"None of us can claim infallible authority in our political preferences," he concluded. "And we should be reluctant to deploy Bible verses as political debating points. Paula White's misuse of scripture to support current border policies instead of provoking ridicule should instead inspire reflection on why we Protestants, conservative and liberal, repeatedly make her mistake."
White's comment comes after Attorney General Jeff Sessions received much backlash last month after he cited Romans 13 to justify the Trump administration's "zero tolerance" illegal immigration enforcement policies.