SOTU Analysis: Was Obama's First Six Years as Successful as He Claimed?
SOTU Analysis: Was Obama's First Six Years as Successful as He Claimed?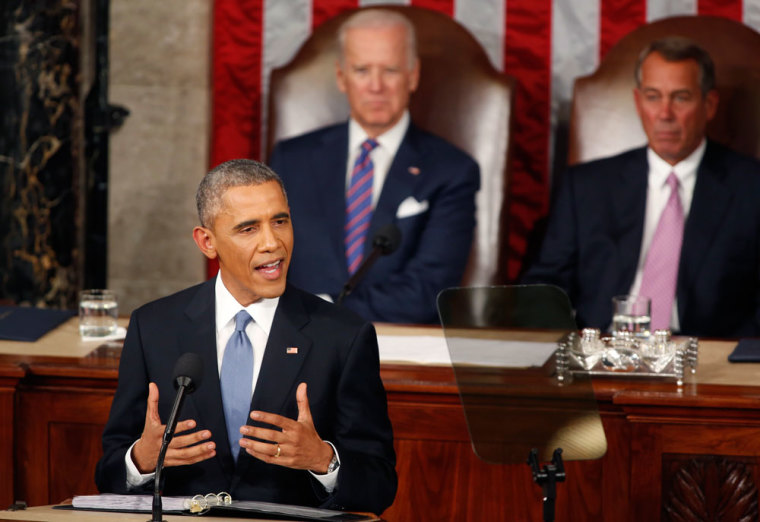 Correction Appended
The overarching theme of President Barack Obama's Tuesday State of the Union Address was that his first six years as president have been a success. Do his claims match reality?
The White House intentionally asked that the address take place on January 20 so it would mark the six-year anniversary of his first State of the Union. Obama then began the speech with a remark that recalled that address.
In his 2009 address, delivered just three months after the beginning of the Great Recession, Obama declared the "day of reckoning has arrived, and the time to take charge of our future is here."
"Now is the time to act boldly and wisely," he continued, "... to build a new foundation for lasting prosperity."
In Tuesday's address, Obama went back to that theme. He announced that the new foundation has been built.
At the beginning of the speech, after mentioning the recession, Obama said, "but tonight, we turn the page," "after a breakthrough year for America, our economy is growing," and "the shadow of crisis has passed." And near the end of the speech, he declared, "we have picked ourselves up, dusted ourselves off, and begun again the work of remaking America. We've laid a new foundation."
There has certainly been some good economic news recently. The low gas prices (partly due to more oil production from Saudi Arabia) are saving Americans money both at the gas station and in lower transportation costs for the goods and services they buy.
A strong foundation, however, implies that the American economy will be built to withstand whatever difficulties lie ahead. And in that respect, Obama has failed.
The national debt is now almost $18.1 trillion, which is more than the nation's GDP. When Obama first took office, the national debt was $10.6 trillion, which means the debt is on track to nearly double in his eight years in office. Moreover, Obama has asked to add even more to the debt in his annual budgets submitted to Congress. If Republicans had not taken control of the House of Representatives in 2011, the debt would have likely been even higher.
And now comes the really bad news: under current policy the situation will only get worse. Current unfunded liabilities (promised payments minus expected revenue) are over $93.5 trillion.
With that much debt, our children and grandchildren will have a weak foundation. Dealing with crises will be more difficult when a large portion of the federal budget must go toward paying interest on the debt. A September report by the Congressional Budget Office estimated that those interest payments, $231 billion last year, will rise to $799 billion in 2024.
Future generations will suffer because of decisions made by Obama.
On foreign policy there was also a disconnect between Obama's words and actual events. Obama declared that he is stopping the advance of ISIS, he stood up to Russian President Vladimir Putin's aggression, and he prevented Iran from advancing its nuclear program. None of these are true.
Even MSNBC's Andrea Mitchell, a liberal host on the most liberal cable network, declared that Obama's "projection of success" against terrorism and Putin "doesn't match reality."
His administration is currently in negotiations with Iran to end their nuclear program, but those negotiations have yet to yield any results.
Putin was successful in taking control of the Crimean peninsula and Russian troops are now in Ukraine. The Russian economy is currently struggling, which is due to a combination of the sanctions supported by Obama and the low oil prices. But so far, those sanctions have not had their desired effect. Russian troops have not left the Ukraine.
U.S. aid has not been successful in stopping ISIS. In a Wednesday interview with Associated Press, Iraqi Prime Minister Haider al-Abadi said his country's troops are "almost on [their] own" because they are not getting the training or weapons they need to fight ISIS.
Even as Obama was declaring himself a success at fighting terrorism, a U.S. Navy carrier was heading to Yemen for a possible evacuation of the American embassy due to radical Muslims taking control of the country.
Correction: January 21, 2015
An article on Wednesday, January 21, 2015, stated that low gas prices are mostly due to increased oil production from Iraq. The low gas prices are partly due to increased oil production from Saudi Arabia.