Soul Surfer's Bethany Hamilton Pregnant With Baby No. 2 (Video)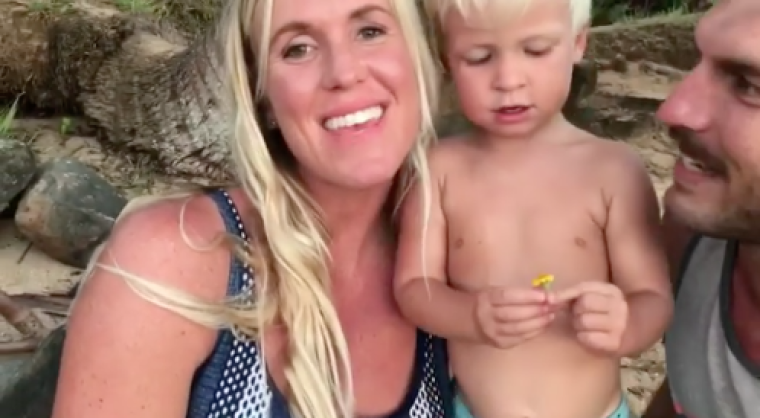 Professional surfer and outspoken Christian Bethany Hamilton announced that she and her husband, Adam Dirks, are expecting their second child.
The popular shark attack survivor behind the blockbuster film "Soul Surfer" took to Instagram over the weekend with a little help from her husband and their 2-year-old son, Tobias, to share the special news.
"Right there!" little Tobias says in the video clip after Dirks asks him where the baby is. The toddler then runs and plants several kisses on his mother's stomach.
"Another one on the way!" Dirks tells the camera, with Hamilton adding, "Baby in there!"
The 27-year-old will be welcoming her new baby next year as well as releasing a new documentary, titled "Bethany Hamilton: Unstoppable." The film will chronicle Hamilton's 2003 shark attack that tragically left her without a left arm. It will also give viewers insight on the Christian athlete's resilience in becoming one of the leading professional surfers of all time — along with becoming a wife and mother.
After welcoming her son Tobias, Hamilton shared with PEOPLE how becoming a mother changed her life and day-to-day routine.
"Having a baby, you pretty much have to plan ahead everything, especially [since I'm] nursing him. I'm attached to him in a sense because I have to nurse him every two to three hours," she shared. "So I'll feed him and go surf for a little bit, and try to get back in time or sometimes we'll pump a bottle and my husband will take over."
Adding, "[It's] definitely such a big adjustment. Even surfing, I'll just be thinking of him. I'll get back from the beach and I'm like, 'Oh, I've missed you little guy!'"