Southern California Blue Cut Fire Map Update: Firefighters Battling 80-foot Wall of Unprecedented, 'Extreme Fire'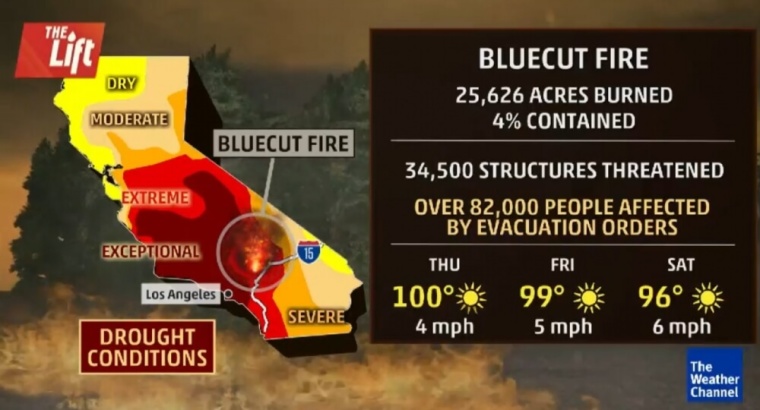 A massive wildfire devastating Southern California continued raging on Thursday, prompting over 82,000 evacuation orders, with firefighters reportedly battling "extreme" and unprecedented fire behavior in the face of an 80-foot wall of fire.
"The biggest thing was, we had to continually retreat against that advancing wall of fire, and that was something that I haven't witnessed in this section, ever," said Eric Sherwin of the San Bernardino County Fire Department, according to CBS News.
"We have strike teams here, and remember, our priorities are life, properties, and infrastructure. And lives also include firefighters' lives. And we can't go and stand in front of that 80-foot wall of fire. That's just self-defeating."
Over 1,500 firefighters are reportedly trying to quell the Blue Cut wildfire, but so far only four percent of it has been contained. A number of homes have already been destroyed by the flames, but officials are yet to say how many.
Incident Commander Mike Wakoski told the Associated Press that in over 40 years of fighting fire, he has "never seen fire behavior so extreme."
San Bernardino County Fire Chief Mark Hartwig added that the blaze has exploded to more than 40 square miles on Thursday morning due to dry and breezy conditions.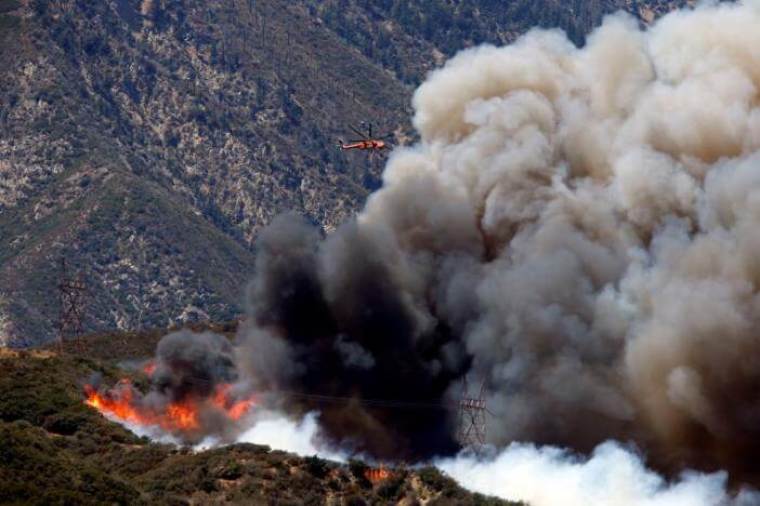 "It hit hard. It hit fast. It hit with an intensity that we hadn't seen before," Hartwig told AP. "There will be a lot of families that come home to nothing."
Firefighters are reportedly trying to save homes in the mountain communities of Lytle Creek, Wrightwood and Phelan, noting that a number of the residents decided to stay despite the warnings.
Lyn Sieliet, a U.S. Forest Service spokeswoman, said that as many as half of the residents failed to leave their homes.
"It does change the way that we can fight fire," she added. "Now we have to worry about the people in there as well as trying to protect the structures and trying to build a line of defense as the fire comes toward that area."
Cathey Mattingly of the California Department of Forestry and Fire Protection said that the evacuation orders are mandatory, as the residents are facing great danger.
"They're under mandatory evacuation for a reason. Obviously there's a very large threat there," Mattingly explained.
Reports on Wednesday noted that 40-year-old Damin Anthony Pashilk of Clearlake, California, was arrested on 17 counts of arson, and is being accused of sparking the major blaze over the weekend.
Ken Pimlott, director of the California Department of Forestry and Fire Protection, revealed that Pashlik is suspected of starting fires throughout the Lake County region over the past year.
"Mr. Pashilk committed a horrific crime and we will seek prosecution to the fullest extent of the law. My thoughts continue to be with the people of Lake County during this difficult time," Pimlott said.
The video below shows footage of the spreading Blue Cut wildfire.