Steph Curry Says Barack Obama Shared His Struggles With Fame in Private Conversation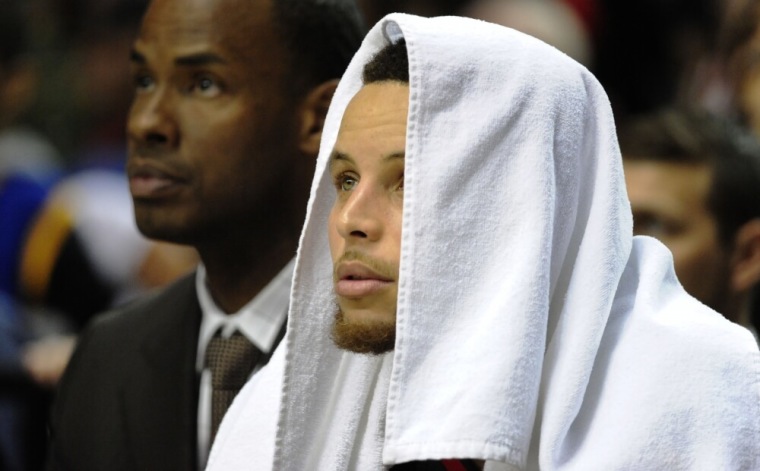 Steph Curry is one of the most recognizable names in professional basketball but just before the NBA Finals kicked off between the Golden State Warriors and the Cleveland Cavaliers, he opened up about the downside of fame.
Curry, the 29-year-old Warriors guard, revealed a conversation he had with former President Barack Obama about learning to adjust to a lack of privacy. The NBA star shared Obama's thoughts on the matter in an interview with ABC News that aired on May 31.
"He was talking about the challenges of before he was in office. And I'm not comparing what I do to what he does, but he dropped a line," Curry said. "He said before he got into office, he didn't value his anonymity as he was going through life. He can't just go walk down the street and be in his own world and just unplug, if you will, from all the commotion, the attention, the people grabbing at you."
As a two-time NBA MVP on a team vying for its second championship in three years, Curry said he could relate.
"That's the one thing that's tough and what we do, we're obviously up front and center on TV," he said. "[That's] the hardest thing ... maybe go to a grocery store and pick up some stuff and not run into anybody, have to talk about basketball or something like that — can't do it."
In the midst of his fame, Curry has said he wants to use his platform to make a difference. When speaking at a Liberty University convocation in Lynchburg, Virginia, last March he revealed that his NBA career was about more than just fame and accolades.
"The Lord has blessed me with these talents to do something special. But it is not about me," the two-time reigning league MVP said, according to Liberty University. "That is something that I want my career and my life to be a reflection of — His love and His grace and mercy. Whether it is winning games, losing games, making shots, missing shots — it is all about giving glory to God."
Curry said it was amazing to be surrounded by the love of God at Liberty University, the Christian college where his younger brother, Seth Curry, once played. During his speech there, the Warriors star encouraged the students to take advantage of their platform.
"It is amazing to be here and to feel the love and the vibe and the passion for Christ that is here. I commend you guys for creating that kind of environment," he said. "Part of that is being confident in your abilities and the platform that God has given you and using that platform to shine the light back to Him. That is the only reason that I feel like I do what I do and I have been blessed with the talents that I have."