Stephen Baldwin Endorses Donald Trump for President (Interview)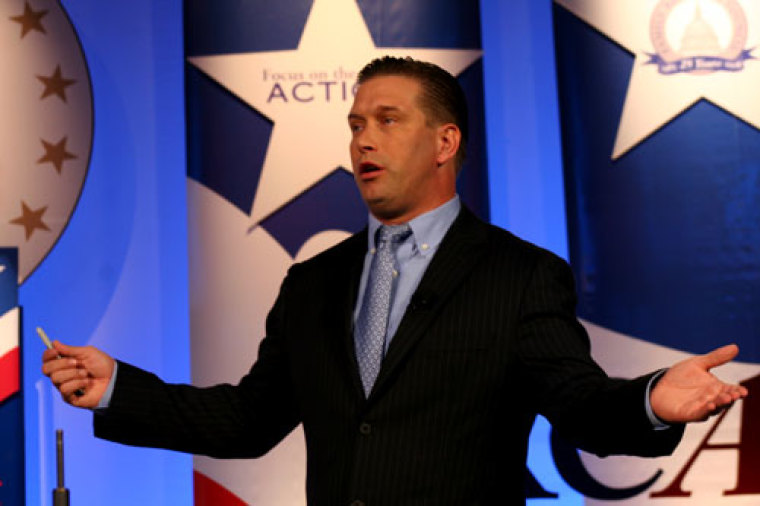 While promoting the release of his latest DVD for the film "God's Club," actor Stephen Baldwin shared his support for GOP front-runner presidential candidate Donald Trump, arguing that the businessman is what Christians in America need in a leader.
"I've said this about Donald Trump, in my two experiences with him doing 'Celebrity Apprentice,' I found him to be actually behind-the-scenes a pretty regular Joe guy. Down to earth, a father, a husband and a businessman," Baldwin told The Christian Post.
In the last two or three years, Baldwin, who is also a director, producer and author, has focused heavily on ministry, charitable good works and humanitarian works. According to his book, The Unusual Suspect, the famous Baldwin brother became a born-again Christian after the 9/11 attacks and has been doing ministry ever since. Admittedly not one to normally speak about politics, Baldwin maintained that he does, however, wholeheartedly endorse his former boss, Trump.
"I think many people don't understand that Donald Trump has spent his life and career building his brand a certain way in business and that's kind of what everybody's use to," Baldwin said of Trump's persona. "Don't get me wrong, he still says things in a way that are very brash and harsh and sometimes controversial, other times he just says some things the wrong way. I don't think there's a lot of people that would debate that."
"What I believe is, for a time such as this, with the culture sliding and eroding the way it has been over the last decade, I believe Donald Trump is a moral man who in his lifetime has learned a lot and now as a result of his knowledge and wisdom and experience, particularly in business, I believe he can do things that would really make America great again," Baldwin asserted. "Starting with the economy, which is a trickle down that affects everybody in many ways, even spiritually. I think it's fair to say that when people suffer economically it hurts them spiritually."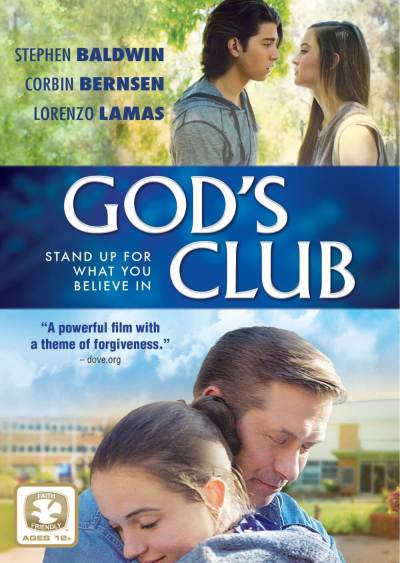 Baldwin's recent film "God's Club" addresses current difficulties Christians are faced with in America, such as prayer in school and the right to have Christian clubs on school campuses. Baldwin plays a teacher who stands up for his right to have a Christian club in school with students who want to attend, and the 49-year-old says Trump, if president, would protect that right.
"I believe that in president Trump is somebody who could really start to implement things in the physical realm and in the natural realm that will help us financially," Baldwin noted, assuring that finance is not at all his main reasoning for backing the billionaire. "Another motivation for me is I believe that he would enact and support bringing the country back to that moral code. That is that religious freedom for Christians to be able to have prayer back in school if they so choose."
"I wholeheartedly believe Mr. Trump is the type of individual that will stand for those things. He is a Christian. That is something very personal to him and I respect that," Baldwin maintained.
While Baldwin, Houston megachurch pastor Robert Jeffress, and Liberty University President Jerry Falwell Jr. are some of the well-known evangelicals that have publicly supported Trump, there are many evangelicals that believe the real estate mogul would not be a good U.S. president because of his radical and uninformed views on foreign policy, his personal character, and his flip-flopping on key issues.
Russell D. Moore, president of the Southern Baptist Convention's Ethics & Religious Liberty Commission, is among the most outspoken critics of Trump. In an opinion piece earlier this year, Moore blasted Trump's reasoning for switching from pro-choice to pro-life simply because he knew a child that was supposed to be aborted but grew up to be a "superstar."
"Beyond that, Trump's vitriolic – and often racist and sexist – language about immigrants, women, the disabled, and others ought to concern anyone who believes that all persons, not just the 'winners' of the movement, are created in God's image," wrote Moore in his National Review op-ed.
Moore went on to criticize Trump's personal character, highlighting Trump's boasting about his affairs and having sex with some of the "top women of the world," and stating that he doesn't need to ask God for forgiveness while claiming he is a Christian.
The Christian Post in its first-ever editorial taking a political stance also called Trump out about claiming to be a Christian to solicit the evangelical vote but not understanding the fundamentals of the faith.
"While God, in His wondrous creativity, has drawn people to Himself through the saving grace of Jesus Christ in many different ways, there are certain non-negotiable actions needed to become a Christian: One must repent of their sins and follow Christ as Lord and Savior. Trump doesn't talk this way, even when urged to," reads the CP editorial.
"Further, his words and actions do not demonstrate the 'fruit of the spirit.'"
"Trump is a misogynist and philanderer. He demeans women and minorities. His preferred forms of communication are insults, obscenities and untruths. While Christians have been guilty of all of these, we, unlike Trump, acknowledge our sins, ask for forgiveness and seek restitution with the aid of the Holy Spirit and our community of believers."
And best-selling Christian author and pastor Max Lucado, who rarely – if ever – talks about politics, wrote an influential opinion calling Trump out for his indecent behavior.
"I don't know Mr. Trump. But I've been chagrined at his antics. He ridiculed a war hero. He made mockery of a reporter's menstrual cycle. He made fun of a disabled reporter. He referred to the former first lady, Barbara Bush as 'mommy,' and belittled Jeb Bush for bringing her on the campaign trail. He routinely calls people 'stupid,' 'loser,' and 'dummy.' These were not off-line, backstage, overheard, not-to-be-repeated comments. They were publicly and intentionally tweeted, recorded, and presented," Lucado wrote.
"Such insensitivities wouldn't even be acceptable even for a middle school student body election. But for the Oval Office? And to do so while brandishing a Bible and boasting of his Christian faith? I'm bewildered, both by his behavior and the public's support of it."
Trump has an estimated 389 delegates out of the 1237 needed to win the Republican nomination, while Cruz has 302 delegates and Rubio has 126 delegates. On Super Saturday, Cruz won two states, Maine and Kansas, denting Trump's unbeatable image and bolstering his argument that he is the best candidate to stop Trump.
jeannie.law@christianpost.com