Stephen Colbert Brings 'Jesus' on 'The Late Show' to Blast WWE's 3:16 Trademark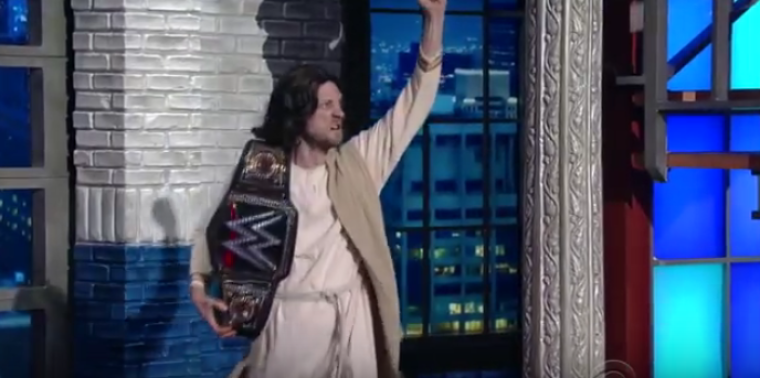 Stephen Colbert drew attention to the WWE's trademark of "3:16" by bringing a caricature of Jesus Christ on his late-night talk show.
Reports surfaced earlier this month that the WWE has trademarked "3:16," which is well known by many Christians familiar with the scripture John 3:16 that states: "For God so loved the world that he gave his one and only Son, that whoever believes in him shall not perish but have eternal life."
Colbert, a Catholic, whose lewd jokes offended many viewers earlier this year who called for CBS to fire him, featured a skit on his Aug. 4 show that imagined what it might look like if Jesus were in a WWE-style promo to defend the scripture.
The fictitious Jesus made an appearance on the show after Colbert called the WWE's trademark "the most inappropriate case of commercializing the Bible."
In an introduction fit for the WWE ring, Colbert introduced the Jesus character as "the Messiah of muscle, the savior of steel ... Jesus!"
"Oh yea, brothers and sisters, listen up. I am the way, the truth and the life," the wrestling version of Jesus said in a cadence made popular on WWE. "No one comes at the Father except through me. You hear that Stone Cold?"
He went on to threaten Austin in the segment while holding up a fake WWE belt.
"I'm gonna walk on over you like water. And go ahead and bring the pain because whosoever shall smite me my right cheek, I will turn to you the other and then FORGIVE YOU," the character said. "This is my body, this is my belt. I'm the champion of the world."
The description of the YouTube video posted by "The Late Show" explains the segment as, "He has risen... to confront the WWE for commercializing His book."
The WWE took interest in 3:16 back in the 1990s when "Austin 3:16" became wrestler Stone Cold Steve Austin's catchphrase after he defeated born-again Christian wrestler Jake "The Snake" Roberts, Colbert said.
"You sit there and you thump your Bible, and you say your prayers, and it didn't get you anywhere! Talk about your Psalms, talk about John 3:16... Austin 3:16 says I just whipped your a**," Austin said in his infamous speech after defeating Roberts in 1996.
Colbert frequently talks about his Catholic faith on his late-night comedy show and during an interview with the Holy See Press Office's Father Thomas Rosica on the "Witness" program in 2015 he spoke about logic and his belief in God.
"Faith ultimately can't be argued. Faith has to be felt. And hopefully you can still feel your faith fully, and let your mind have a logical life of its own, and they do not defy each other, but complement each other, because logic itself, I don't think, for me, and you know — logic itself will not lead me to God," Colbert previously said. "And so, hopefully I can use my mind to make my jokes, and not deny my love for God at the same time."