Steve Harvey Adds Faith-Based Sweaters to Christmas Collection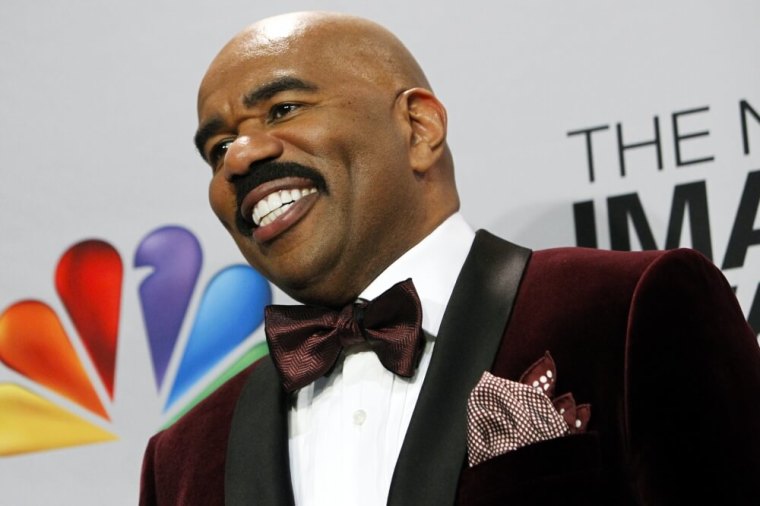 The latest addition to Steve Harvey's Holiday sweater collection speaks less to his comedic side and more to his faith.
After creating sweaters that poke fun at the comedian-turned-radio and TV host mistakenly announcing the wrong Miss Universe winner last year, Harvey has also created a sweater that reminds Christians what the Christmas season is all about: faith.
"Faith doesn't make it easy, faith makes it possible," the sweater reads.
A percentage of the proceeds from Harvey's sweater sales will go toward The Steve and Marjorie Harvey Foundation that he runs with his wife.
"The mission of The Steve and Marjorie Harvey Foundation is to provide outreach to fatherless youth, by promoting educational enrichment, leadership skills, one-on-one mentoring and global service initiatives that will cultivate the next generation of responsible leaders," the mission statement for the foundation states.
While Harvey decided to include faith-based options in his holiday sweater collection, he also couldn't resist making fun of himself with a plethora of options featuring slogans like "Merry Easter."
When hosting the Miss Universe pageant last year, Harvey mistakenly announced Miss Colombia as the winner instead of crowning Miss Philippines as the actual winner. Although he quickly corrected his mistake during the pageant that aired live in 2015, memes, criticism, increased paparazzi and international outrage and death threats all resulted from that single error. 
One year later, Harvey decided to make light of the situation and create holiday sweaters to benefit his charity. The sweaters feature a leprechaun, Santa Claus, Easter bunny and Harvey with his trademark smile, note card and microphone standing as if he was about to read the name of a contest winner.
While Harvey can laugh about his gaffe now, he previously made it clear that he had a hard time dealing with the matter.
"I said, 'first of all it wasn't funny at all. It was far from funny,' " Harvey told USA Today. "It was a mistake that I made. Allow me to get up and move on with my life."
After issuing his apologies and reflecting on the matter, Harvey revealed that he prayed for the moment to happen.
"I was asking God to help me increase my global persona. I don't appreciate the route he took," he said, according to the Hollywood Reporter. "You've got to be real specific with God. It was a challenging night for sure."