Steve Harvey Gives God the Glory for Blessings in Life Following Radio Hall of Fame Induction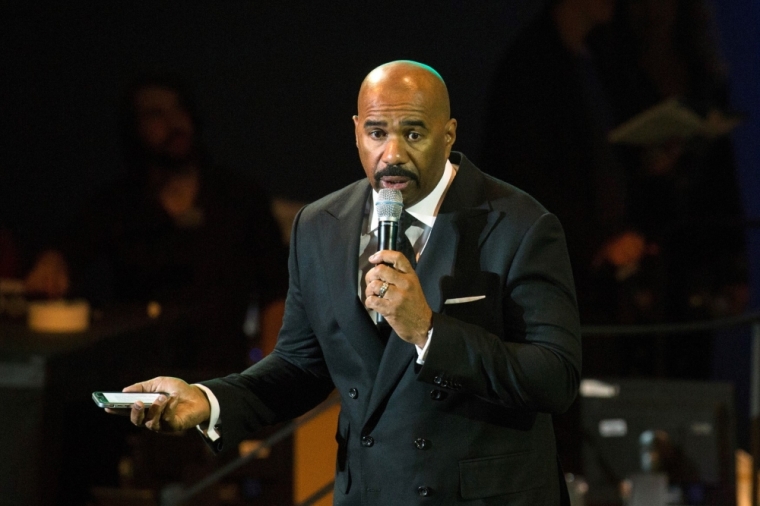 Steve Harvey is giving God and his fans all of the credit for his induction into the 2016 Radio Hall of Fame.
"Hey look it just keeps happening, the blessings keep coming. Now I've been inducted into the 2016 class for the Radio Hall of Fame," he said in a video posted on Twitter. "Another honor, I almost don't know what to say. I'm blessed, my life is covered with grace, I'm grateful but you know I'm none of this without fans."
The 59-year-old comedian-turned-entertainment mogul went on to let his fans know that he wanted to share the award with them.
"So thank you to all the fans for helping to create who I am today by loving me, supporting me, by watching me, listening to me throughout the years. I want to share this one with everybody out there," he said. "This is ours, we're going into the Radio Hall of Fame together. But I'm going to keep the award at my house."
Harvey is part of the 2016 class of inductees for the National Radio Hall of Fame which includes Eric & Kathy (Eric Ferguson and Kathy Hart) from WTMX 101.9 FM The Mix Chicago; Jeff & Jer (Jeff Detrow and Jerry Cesak) from KyXy 96.5 FM San Diego; Harvey's "The Steve Harvey Morning Show" syndicated by Premiere Networks Active Network/Syndication; Delilah, syndicated by Premiere Networks; Bob Kingsley from Bob Kingsley's Country Top 40, which is syndicated by Westwood One Music, and Michael Savage from "The Savage Nation," which is syndicated by Westwood One.
According to the National Radio Hall of Fame website, "The National Radio Hall of Fame is a museum dedicated to recognizing those who have contributed to the development of the radio medium throughout its history in the United States."
Harvey has leaned on his faith for years and has been vocal about leaning on God to help him through humble beginnings. When he graced the cover of People magazine earlier this year, Harvey revealed God's message to him when he suffered from being homeless decades ago.
"I sat down and started crying, but a voice said, 'If you keep going, I'm going to take you places you've never been,'" he said in an interview with People magazine. "It was like God said, 'Don't quit, you're almost there.'"
Earlier this year, Harvey was given an honorary doctorate degree from Alabama State University where he also delivered a commencement speech. However, before the accolades, Harvey had to overcome poverty and two failed marriages before marrying his current wife, Marjorie Harvey, in 2007.
"I've lost it all twice and had to start over. I had to struggle through two marriages before finding this one. … I didn't have nothing," an emotional Harvey told Alabama State University graduates, according to the Montgomery Advertiser. "In every single moment of adversity in your life, two things are going to happen: There's going to be a lesson and there's going to be a blessing. If you let the adversity crumble you, you will lay there and wallow in the failure, but life is 10 percent what happened and 90 percent what you're going to do about it."