Steve Harvey Says T-Mobile Ad Poking Fun of Miss Universe Mistake Is About Redemption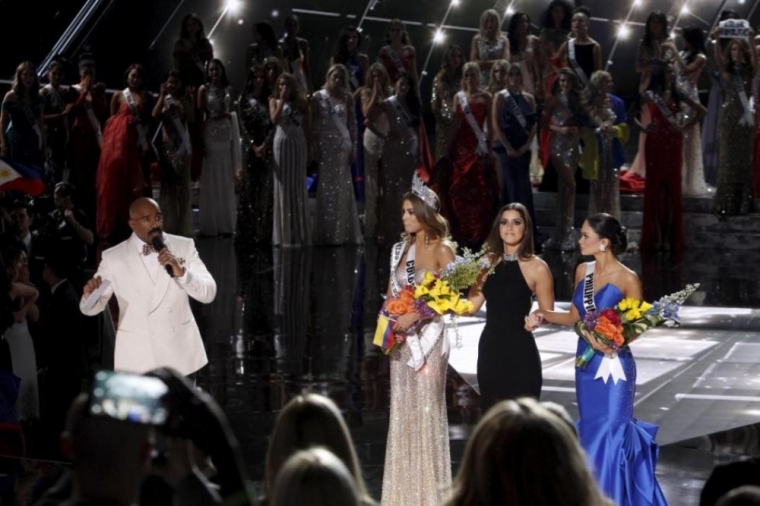 Steve Harvey's T-Mobile commercial that aired during Super Bowl 50 is about more than making a ton of money from his mistake while hosting the Miss Universe pageant last year, it's about redemption.
The 59-year-old comedian said he was approached by T-Mobile to discuss doing a commercial poking fun of his Miss Universe hosting mistake. However, Harvey did not initially think the idea was funny.
"I said, 'first of all it wasn't funny at all. It was far from funny,'" Harvey told USA Today.
The host of his own talk show, radio show and game show mistakenly announced Miss Colombia as the initial winner, before realizing his mistake and crowning Miss Philippines as the actual winner on the pageant that aired live Dec. 20. Aside from the memes, criticism, increased paparazzi and outrage that resulted, Harvey said he also received death threats.
For Harvey, participating in the commercial was about more than just money.
"I'm not going to look like an idiot, I've already felt bad enough about this. But if there were some kind of redeeming quality to it I'd like to see the idea," he recalled of his initial thoughts to team up with T-Mobile for a commercial.
Now, Harvey is ready to move on from the fiasco.
"It was a mistake that I made. Allow me to get up and move on with my life," he said. "If you want to hold me to it, then go ahead and do that, I'd be OK with that too."
After issuing his apologies and reflecting on the matter, Harvey revealed that he prayed for the moment to happen.
"I was asking God to help me increase my global persona. I don't appreciate the route he took," he said, according to the Hollywood Reporter. "You've got to be real specific with God. It was a challenging night for sure."
Right before going live as host of the pageant, Harvey hinted about God giving him the opportunity to appear on the live show.
"Look at where God brought me! #MissUniverse2015," Harvey tweeted before the event started.
The comedian, author, and actor has been vocal about his Christian faith in the past. During his last stand up comedy show in 2012, an emotional Harvey glorified God for his platform.
"Somebody tweeted me and said, 'Your career is what [you're] paid for, your calling is what you're made for.' God has positioned me just this way to be just like I am, to say what I say, how I say it," Harvey said in his final stand-up comedy show at the MGM Grand in Las Vegas. "I'm just a living witness that you can be an imperfect soldier and still be in the army fighting for God Almighty. Don't you think you got to be perfect, 'cause I ain't."