Steve Scalise: 'God Intervened,' a String of 'Little Miracles' Saved My Life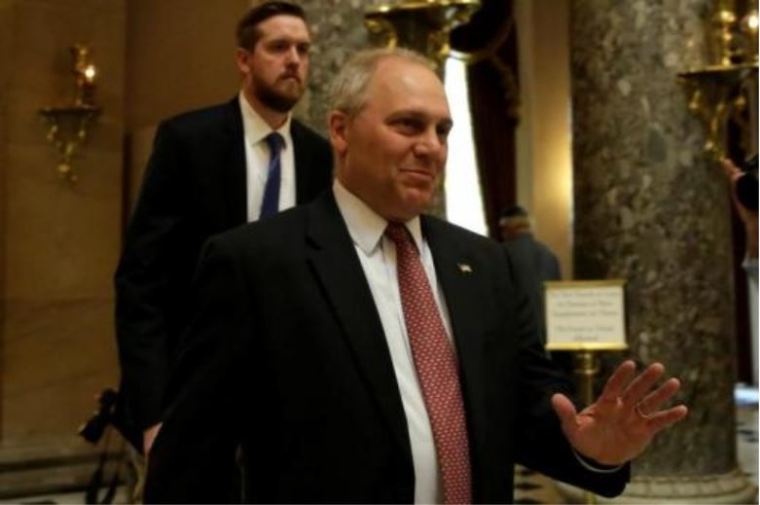 The Louisiana congressman who was shot and nearly killed earlier this year while playing baseball believes "God intervened" and a string of "little miracles" along the way ultimately saved his life.
In a Sunday CBS "60 minutes" interview with Norah O'Donnell, Steve Scalise unpacked what happened on the morning of June 14 where he and four others were shot by 66-year-old James Hodgkinson at Eugene Simpson Stadium Park practice field in Alexandria, Virginia. Scalise and fellow Republican Congressional colleagues were practicing for a charity baseball game. Capitol Hill police officers David Bailey and Crystal Griner, who successfully took down the shooter, were there that day as part of Scalise's security detail since he is a member of the House leadership. Though several people were shot and wounded that day Hodgkinson was the only casualty.
"It's a miracle," Scalise said.
"If you look at what happened that morning ... if you would have said [that] at the end of this the only person that would be dead would be the shooter, nobody would believe it."
When he heard the gunshots, he thought a tractor had backfired but then realized he had been shot and fell to the ground. He started crawling to escape but then his arms gave out. Scalise said he never saw the shooter and as he began to bleed out there on the field he started to pray, recounting that a strange calmness came over him as he did.
"The first thing that came to mind, I prayed, 'God, please don't let my daughter have to walk up the aisle alone,'" Scalise said.
"After that, I prayed that I can see my family again."
Scalise was shot in the hip, his femur shattered, and he had extensive internal bleeding in his pelvic area. He incurred significant muscle and nerve damage, noting in the interview that when he first began physical therapy he could not move one of his legs at all, likening it to a piece of lead and that it felt like a form of paralysis.
Scalise, who represents Southeast Louisiana in the House of Representatives, and is a devout Catholic, recounted in an overtime segment of "60 Minutes" online that several "little miracles" transpired that day, and that unless all of them had happened the way they did he probably would have died.
"I'm definitely a living example that miracles really do happen," the congressman said in a return speech where he was greeted with rousing ovation from his colleagues on the House floor Thursday. "It has only strengthened my faith in God."
Scalise mentioned that he believes that had Capitol Police officers Bailey and Griner not been present that day there would have been multiple casualties and likely over a dozen members of Congress slain.
"This was a blessing, I mean, God, I really do believe, intervened," Scalise said.
Another "miracle" was the presence of Rep. Brad Wenstrup of Ohio, a fellow Republican who is both an Iraq war veteran and combat surgeon who made a makeshift tourniquet using a belt for Scalise as he lay bleeding on second base on the baseball diamond. He later applied a clotting bandage.
CBS also learned that the groundskeeper of the baseball stadium had locked the third base gate, which inhibited the shooter from having easier access to the field. The third base gate is usually open, but the groundskeeper had a funny feeling the night before and locked it, Wenstrup recounted the groundskeeper telling him.
Scalise added that he has "no doubt that if God didn't put those little miracles out there, I wouldn't be here today."
"It's a confirmation of my faith and it's something that I want to continue to share with other people."