Steve Scalise Hails 'Power of Prayer,' 'Miracles' in First House Speech After Near-Fatal Shooting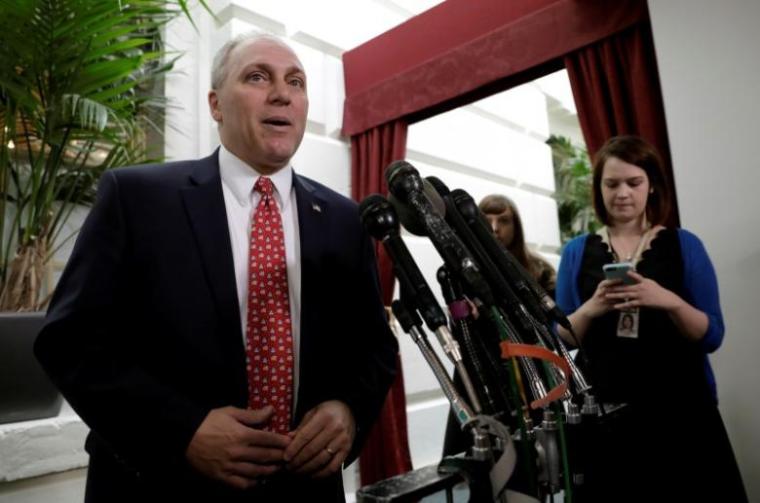 Louisiana Republican Congressman Steve Scalise who was shot at a baseball practice in mid-June returned to Capitol Hill Thursday, praising God profusely for the many "miracles" and answered prayers since that day.
After walking in to sustained cheers and applause from House members, Scalise, who represents Louisiana's first district, gave a speech from the floor.
"As you can imagine, these last three-and-a-half months have been pretty challenging times for me and my family," Scalise said. And the outpouring of love, of warmth, or prayer, sustained him, he added.
"And it starts with God," he said to much applause.
"When I was laying out on that ball field the first thing I did once I was down and I couldn't move anymore is I just started to pray. And I will tell you it gave me an unbelievable sense of calm knowing that at that point it was in God's hands."
He prayed for very specific things, he continued, and "pretty much every one of those prayers were answered."
"But He really did deliver for me and my family, and it really just gives you that renewed faith and understanding that the power of prayer is something that you just cannot underestimate."
I'm back. pic.twitter.com/vuqYQorM6U

— Rep. Steve Scalise (@SteveScalise) September 28, 2017
He said he believes he's living proof that miracles still happen and thanked the "true angels," Capitol police officers Crystal Griner and David Bailey, who saved his life.
Scalise, who is the Majority Whip in the House, had security detail assigned to him because of his leadership post. The congressman noted that he regards Griner and Bailey as part of their family as they are frequently with him, his wife and children everywhere they go. And they were there at the Eugene Simpson Stadium Park practice field in Alexandria, Virginia, on June 14 where a group of Republicans were practicing for a charity baseball game.
Nobody would have expected what ultimately ensued that day, Scalise said, mentioning that he prayed while on the ground that the police would be successful in carrying out their duties.
Griner and Bailey, who were both wounded during the shootout, successfully subdued the shooter, 66-year-old James Hodgkinson — a volunteer for Sen. Bernie Sanders' presidential campaign who was found with a list of a Republican members of Congress on his person — who fired dozens of rounds at those at the practice field, wounding Scalise, Bailey, Griner, and a former staffer and a lobbyist.
Many prayer groups from Scalise's home district and state as well as from around the nation gave him the strength to press on during especially difficult moments throughout his recovery process, he said.
Yet what was particularly remarkable to him was the outpouring of support that he received from world leaders like British Prime Minister Theresa May, King Abdullah of Jordan, and Israeli Prime Minister Benjamin Netanyahu, he added.
Such overtures "touched me in a different way" Scalise intoned, given how the nations of the world consider the United States the leader of the free world. These world leaders saw the attack on him as an attack on the institution of the Congress and the U.S. government more broadly, he explained, and they count on America to be successful.
"There are people all around the world that want freedom, maybe that have freedom, but they know that the United States being strong is critical to the rest of the world having the opportunity for freedom."
He concluded his remarks urging his colleagues to rise above the challenges of the day despite deep differences because not only the nation but the world is counting on us.
Minority Leader Nancy Pelosi, D-Calif., gave remarks following Scalise's speech and thanked God that "our prayers were answered." She noted that she takes particular pride in Scalise because both of them are Italian-Americans, a shared heritage she believes was "a source of some his strength."