Steven Furtick Addresses Criticisms About $1.7 Million Mansion; Says It's From God but Apologizes for Controversy
Pastor Steven Furtick of a North Carolina megachurch spoke to his congregation about the criticisms he has received over his newly built 16,000 square foot home, saying while it is from God, he is sorry for uncomfortable conversations the members had to have due to the controversy.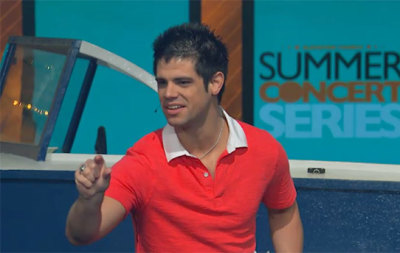 "My wife and I made a decision, and we built a house," Furtick, founder and pastor of the 14,000-member Elevation Church in Charlotte, N.C., said on Sunday. "It's a big house, and it's a beautiful house, and we thank God for it …. We understand everything we have comes from God," he said before he began his sermon.
Critics say the mansion does not reflect servant ministry.
"What happens is these pastors are on television or on radio and they write a book, and it's based on their sermons," Ole Anthony, the president and one of the founders of the Trinity Foundation, a nonprofit foundation that monitors and investigates religious fraud, told The Christian Post last week. "But then what happens is the church is paying for the time and the place to write the book, and then the church is paying for the airtime to advertise the book. And it's just unseemly."
The 33-year-old pastor was open about the house, which he described as 8,400 square feet of heated living area and the rest comprising of basement, attic, garage and porch space.
Furtick told the congregation he was most worried about how the media attention affected them. "I'm sorry for the uncomfortable conversations you had to have this week… I have always tried to make this a church where you could be proud of your church," he said, after which members gave him a standing ovation.
The pastor told the members he was grateful for "what you've prayed, what you've said and what you haven't said… We appreciate knowing that you have our back."
He also said the media should not be seen as an enemy. "I do not call this an attack," he said. "This is a news story, and the media is not our enemy."
Furtick emphasized that he believes in a "ministry of integrity." "That has not changed, and that will not change," he said.
According to Elevation's chief financial officer, Chunks Corbett, the pastor is paying for the house with income from the books he's written and will write.
However, Anthony earlier told CP even that does not justify the house. "Well, it's the same thing that Kenneth Copeland says, it's the same thing Bishop Jakes says, it's the same thing that Benny Hinn says. The church is paying for the airtime that advertises their books, and not getting anything for it, and that's the bottom line," he said.
Celebration Church Awakening Revival Steven Furtick PT01
"The idea of being a servant is lost. It's just a job and they try to make more and more money, and the congregations are losing out. It just infuriates me. It's the opposite of the pastor being the servant and feeding the sheep, the pastor's eating the sheep," Anthony added.
Elevation church, however, also gives out money to other ministries. An NBC Charlotte investigative report mentioned that Elevation Church has given more than $10 million to nonprofit organizations, such as Samaritans Purse and Crisis Assistance Ministry.
CP also recently reported that between April 2011 and April 2012, the church gave away more than $1 million to the city of Charlotte and 102,208 service hours as a part of its Orange Initiative, according to the church's annual report. In addition, the church also provided more than 1,000 at-risk students with mentors through its M1 Initiative last year.
However, questions are also being raised about the salaries some megachurches pay their staff. Elevation last week posted its 2012 annual report on its website, but it didn't include information about staff salaries.