Steven Tyler in Drag: Aerosmith Singer Stuns Nicki Minaj, Randy Jackson, Mariah Carey on American Idol (VIDEO)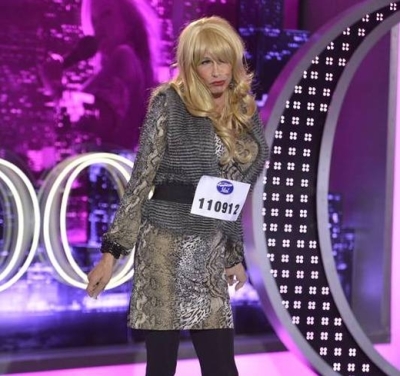 Steven Tyler appeared in drag on American Idol on Thursday night in the hit show's Oklahoma auditions.
The Aerosmith frontman shocked Idol judges Nicki Minaj, Mariah Carey, Keith Urban and Randy Jackson when he appeared at the end of the show dressed up as a blonde haired lady.
Tyler entered the audition hall after the judges were told there was one more contestant for them to see. He entered introducing himself as "Pepper LaBeija," which is a name from the 1990 documentary "Paris is Burning."
The 64 year old singer stunned the judges with his appearance, with Randy Jackson looking up as he entered the room saying, "What the...what?"
Tyler told the Idol judges, "I'm going to judge your (bleep). The roosters may crow, but the hens deliver the goods. You know what I'm saying?"
"Steven Tyler's in the house," cried out Jackson, as he realized his former colleague had come to visit them.
"Dude looks like a lady," cried out Mariah Carey, as a joke in reference to one of Aerosmith's most famous songs.
Tyler then proceeded to take off some of his fake drag materials and threw them across the room at Jackson.
"Do I go through to Hollywood or what?" he said, although he was never shown actually singing anything for the judges.
Here is a video of Steven Tyler's appearance on American Idol: