Stigma of Mental Illness 'Still Real' Inside the Church, LifeWay Research Reveals
Most Protestant Pastors Seldom Speak to Congregation About Mental Illness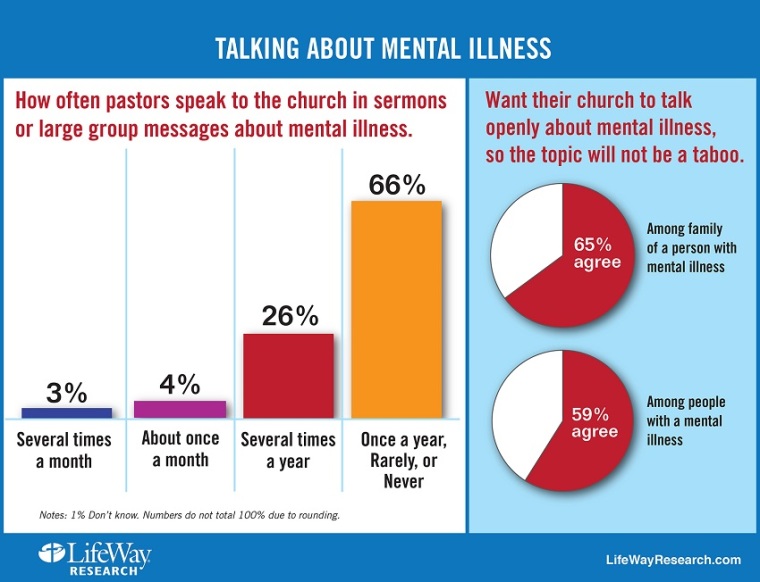 Talking openly about mental illness remains a struggle within the Christian church community despite the fact that pastors often become first responders when a crisis in the family hits, according to a study released by LifeWay Research on Monday.
Experts say pastors and churches do want to help, but too many are unprepared and blame the stigma still attached to mental and emotional problems.
"One in four Americans has suffered from some kind of mental illness. Many look to their church for spiritual guidance in times of distress. But they're unlikely to find much help on Sunday mornings," writes LifeWay's Facts & Trends magazine senior writer Bob Smietana.
The study revealed that most Protestant senior pastors (66 percent) seldom speak to their congregation about mental illness. Almost half of the pastors surveyed rarely speak on the topic (39 percent) or never (10 percent).
About 1 in 6 pastors (16 percent) speak about mental illness once a year. And about a quarter of pastors (22 percent) are reluctant to help those who suffer from acute mental illness because it takes too much time, according to the LifeWay study.
"Our research found people who suffer from mental illness often turn to pastors for help," said Ed Stetzer, executive director of LifeWay Research. "But pastors need more guidance and preparation for dealing with mental health crises. They often don't have a plan to help individuals or families affected by mental illness, and miss opportunities to be the church."
During a press conference to release the findings, Stetzer added that after researchers talked to many mental health experts they found that the stigma attached to mental illness "is still felt, is still real inside the church."
"Perhaps the perception that everyone inside the church is supposed to have things 'together' when I think that's not the desire or the intent of the church," he said. "The stigma still remains and the stigma is still problematic in congregations. De-stigmatization is still a work in progress."
However, Stetzer said that when it comes to churches, sermons break stigmas. "The necessity is for pastors and church leaders to speak more frequently on this issue," he said.
Kay Warren, wife of Saddleback Church pastor Rick Warren, also shared during the press conference on Monday that she is committed to tearing down the barriers that prevent churches and congregations from tackling mental health issues to the fullest. The Warrens tragically lost their son, Matthew, who struggled with mental illness for most of his life when he died at the age of 27 from a self-inflicted gunshot wound on April 5, 2013.
"We decided to honor our son and try to help families and perhaps other churches not go through what we went through or at least find better help. It comes from such a deep personal place for us," Warren said.
She explained that after reading thousands of emails and messages from families sharing about their own struggles with mental illness, and the intense pain and suffering, that one of the things that became clearer is that the church can provide comfort and hope.
"The church actually can provide a layer of protection to those who are struggling with mental illness to the point that it becomes one of those factors that can keep someone alive, keep them from taking their life if they are really connected," Warren said. "The church has a vital role to play. The church community has something to contribute to this conversation that's different than what the mental health community might add, different than what the government might add in terms of legislation.
"The church has a historic role. It has a Biblical role. Jesus is our example. God tells us all through the Word that He is compassionate and that He aches and He hurts for His soldiers when they suffered. Jesus modeled a deep compassion to those that were vulnerable and those that were perceived to have mental and physical [afflictions], and even demonic influences."
A summary of the findings provided by LifeWay Research includes a number of what researchers call 'key disconnects' including:
- Only a quarter of churches (27 percent) have a plan to assist families affected by mental illness according to pastors. And only 21 percent of family members are aware of a plan in their church.
- Few churches (14 percent) have a counselor skilled in mental illness on staff, or train leaders how to recognize mental illness (13 percent) according to pastors.
- Two-thirds of pastors (68 percent) say their church maintains a list of local mental health resources for church members. But few families (28 percent) are aware those resources exist.
- Family members (65 percent) and those with mental illness (59 percent) want their church to talk openly about mental illness, so the topic will not be a taboo. But 66 percent of pastors speak to their church once a year or less on the subject.
That silence can leave people feeling ashamed about mental illness, said Jared Pingleton, director of counseling services at Focus on the Family. Those with mental illness can feel left out, as if the church doesn't care. Or worse, they can feel mental illness is a sign of spiritual failure.
"We can talk about diabetes and Aunt Mable's lumbago in church — those are seen as medical conditions," he said. "But mental illness – that's somehow seen as a lack of faith."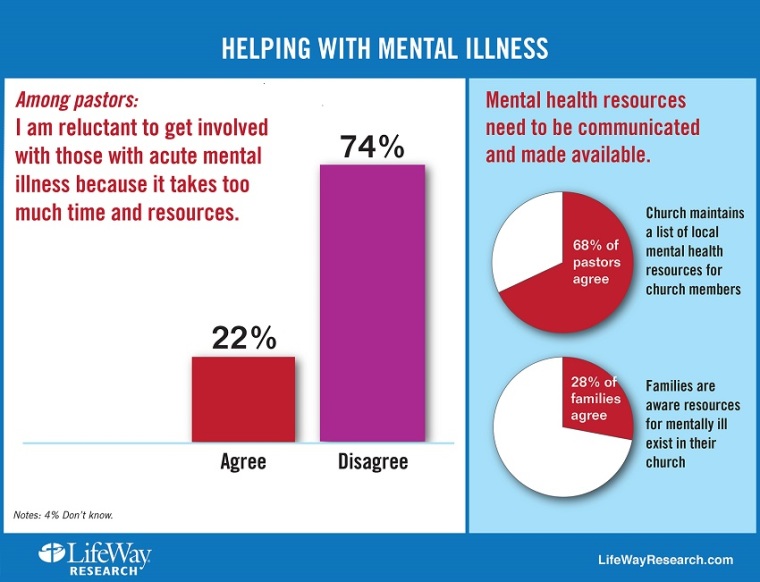 Methodology: LifeWay Research conducted 1,000 telephone surveys of Protestant pastors May 7-31, 2014. Responses were weighted to reflect the size and geographic distribution of Protestant churches. The sample provides 95% confidence that the sampling error does not exceed +3.1%. Margins of error are higher in sub-groups.
LifeWay Research conducted 355 online surveys July 4-24, 2014 among Protestant adults who suffer from moderate depression, severe depression, bipolar, or schizophrenia. The completed sample includes 200 who have attended worship services at a Christian church once a month or more as an adult.
LifeWay Research conducted 207 online surveys July 4-20, 2014 among Protestant adults who attend religious services at a Christian church on religious holidays or more often and have immediate family members in their household suffering from moderate depression, severe depression, bipolar, or schizophrenia.