Students Seek Damages From UC Santa Barbara Professor for Defacing Pro-Life Display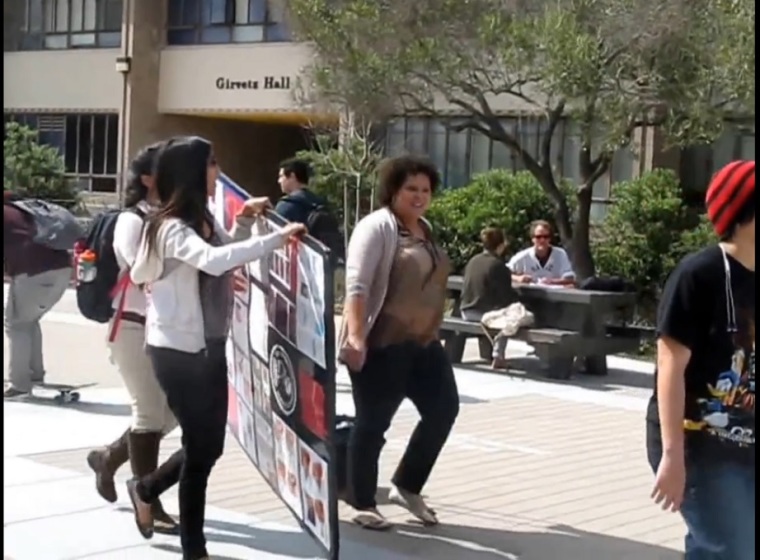 A group of students at the University of California Santa Barbara have filed a complaint seeking damages against the academic institute and a professor who destroyed a pro-life display.
Represented by the Napa-based Life Legal Defense Foundation, the students' complaint was filed Thursday at the Santa Barbara County Superior Court. Those named in the complaint include Mireille Miller-Young, the professor who defaced the pro-life display, and the regents of UCSB.
In March, a group of prolife students had a display on the UCSB campus' free speech zone that included a sign and pamphlets they were passing out. Miller-Young stole and destroyed the sign; then she physically attacked one of the activist's, a teenage girl named Catherine Short.
Miller-Young, an associate professor of feminist studies at UCSB, reportedly told police she felt "triggered" by the images on the posters at her place of employment, and believed it was her "moral right" to remove the sign.
"As a direct and proximate result of defendant Miller-Young's acts, Catherine Short sustained injuries to her person," reads the complaint. "The acts of defendant Miller-Young were willful, wanton, malicious, and oppressive, and were done in reckless disregard of Catherine Short's rights, and justify the award of punitive damages."
In July, Miller-Young pled no contest to the charges of grand theft, vandalism and battery. A video of the incident was posted online.
"[The] plea brings us one step closer to seeing justice done in this case," said Katie Short, Catherine's mother. "Pro-life advocates should not be subjected to intimidation and violence for lawfully exercising their right to free speech, and we are happy to see that Ms. Miller-Young is being held accountable for her actions."
In August, Miller-Young was sentenced to three years' probation, 100 hours of community service and 10 hours of anger-management classes. Judge Brian Hill also sentenced Miller-Young to pay $493 in restitution to the Short family.
Regarding the recent complaint, the Life Legal Defense Foundation said they support the complaint due to the lack of apparent punishment from UCSB.
"Despite Miller-Young's conviction and clear evidence supporting it, the university did not publicly censure or reprimand her for the criminal actions," stated the foundation. "In fact, communications from university officials implied that the youth who had been peacefully engaged in advocating a pro-life worldview caused the incident."
The complaint specifically calls for "compensatory damages, costs and attorney fees under state law," and for "further relief as the court may deem just and proper."
"Plaintiffs file this action to vindicate their own rights and the rights of others to engage in free speech activity on a public university campus without intimidation and fear of mob violence and other criminal behavior."