Sunday 'Celebration' Planned for Fallen Pastor Fred Price Jr.'s Return to Megachurch Pulpit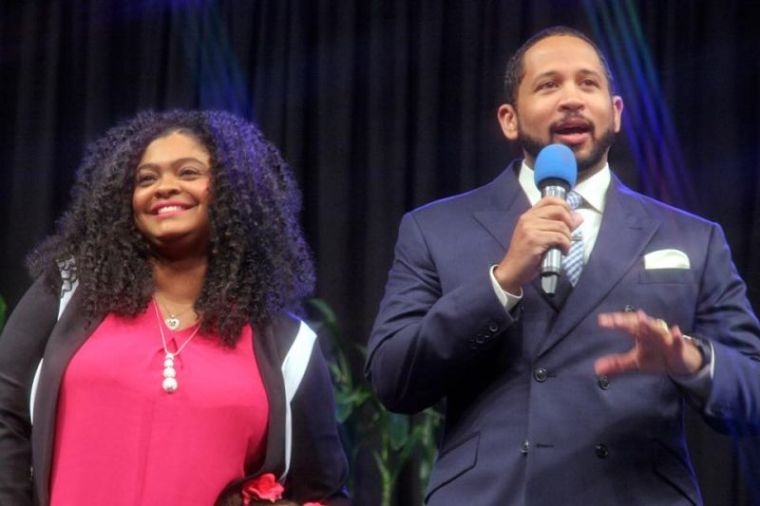 Members of Crenshaw Christian Center in Los Angeles, which once boasted a flock of 28,000 in its heyday, will celebrate the return of their fallen pastor, Fred Price Jr., to the pulpit on Sunday, a year after he stepped down over "serious personal misjudgments."
"Sunday will definitely be celebration Sunday," said Lynne Williams, CCC's pastoral executive assistant who previously confirmed in April that Price would be returning to the helm of the ministry, in an interview Thursday.
Even though Price wasn't leading the ministry for the past year, she said, he and his wife Angel have been attending church services regularly with their children.
"For us it's just a matter of having him back up teaching again," said Williams.
While Price was not immediately available to personally discuss his pending return to the pulpit, he shared a 25-second video clip announcing his return on social media on Wednesday, inviting supporters to show up and help him celebrate his restoration.
Price shocked his congregation last June when he announced that he would be stepping down from ministry due to "serious personal misjudgments" without elaborating on any details. The announcement had come just over eight years after his father, Dr. Frederick K.C. Price, handed over the reins of the megachurch to him in 2009.
"I have struggled with and am correcting and making amends for serious personal misjudgments which have affected my life and my family and which I deeply regret. I have betrayed the trust of God, my family and you my church, and for that I am so sorry. Therefore, I'm gonna step down as pastor at this time," he said.
Williams said she did not know what Price's "personal misjudgments" were that forced him to step down but said she would have been surprised if he had chosen to remain in the pulpit after admitting he had been compromised as a leader.
"His decision to step aside was not unusual for us in this ministry. The integrity with which Apostle Price Sr. and Dr. Betty have led this ministry for almost 50 years put us in a position where he (Price Jr.) has been taught and trained in availing himself to the leading and direction of the Holy Spirit when it comes to personal matters or issues," she said. "It would have been strange to us had he not made that decision to step aside just based on his statements of his personal misjudgments and needing the time to heal and be restored. It would have been very strange for us for him to make any other decision."
Williams noted that Price saw how his "personal misjudgments" had affected his family and made the right call to step away from his administrative duties at the church. She said she was not aware of how other churches handle pastoral family problems but at Crenshaw Christian Center, leaders have to pay attention to their family.
"Your work commitments cannot always come first and so he came to a place and a point where he realized that he needed to give just a little bit more of himself to his family and little bit more time for himself. That is human and it is wise," she said.
It is unclear whether Price will divulge further details of his misjudgments or reference anything from the past year in his teachings but "I guess we'll find out," Williams said.
"I'm sure without a doubt the things he has learned have made an impact on his life and the life of his wife and children and that it's been a learning and growing experience for them. How much of that they will share with others we have no idea," she added. "We'll just have to wait and see on that."
Williams said the last time Crenshaw Christian Center had 28,000 members was about the year 2000. She could not say how many members the church currently has but confirmed it was much less than 28,000. About 2,000 people currently worship at the church's "FaithDome," which seats more than 10,000.