Super Bowl: Eagles Coach Praises Jesus, Nick Foles Gives Glory to God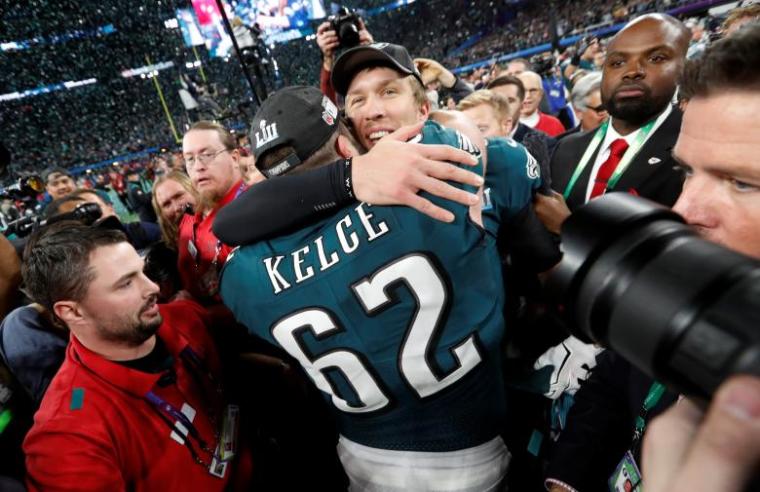 Doug Pederson, the head coach of freshly crowned Super Bowl LII champions the Philadelphia Eagles, gave glory to God in his reaction to the historic victory.
"I can only give the praise to my Lord and savior Jesus Christ for giving me this opportunity. And I'm going to tell you something. I've got the best players in the world, and it's a resilient group," Pederson said in a post-game interview, according to Philly.com on Sunday.
"I love this coaching staff. Mr. [Jeffrey] Lurie, the owner. And not only do we have the best fans in the world, we now have the best team in the world. Thank you guys."
The Eagles' 41-33 victory over the New England Patriots marked their first-ever Super Bowl title at the U.S. Bank Stadium in Minneapolis, Minnesota, having previously lost title games in 1981 and 2005.
Eagles quarterback Nick Foles, who was named the game's Most Valuable Player, saw God's hand in his path to the final, commentators who spoke with him said.
Tony Dungy, former head coach of the Tampa Bay Buccaneers and of the Indianapolis Colts, said in a post-game interview, according to NBC Sports:
"Nick Foles told me last week in Philadelphia he thought the Lord had him here for just this time. He knows this is Carson Wentz's team, but he was ready to go tonight, and he played like a champion."
Foles wept tears of joy when discussing the team's victory, holding onto his daughter, Lily.
"All glory to God. Lily really likes this mic. She has no idea," the MVP said.
Praising his Eagles teammates and coaching staff, he added: "To be here with my daughter, my wife, my teammates, this city ... we're very blessed."
Foles has not kept his Christian faith a secret, describing himself on Twitter as a "believer in Jesus Christ, husband, father, son, brother." The 29-year-old star athlete has said in the past that after his football career comes to an end, he is thinking of becoming a pastor.
"I want to be a pastor in a high school," Foles said at a news conference ahead of the Super Bowl.
"It's on my heart. I took a leap of faith last year and signed up to take classes at seminary. I wanted to continue to learn and challenge my faith. It's a challenge because you are writing papers that are biblically correct. You want to impact people's hearts," he said.
Foles explained that high school is a very challenging time for young men and young women.
"So much temptation in this world, so much going on with social media and the internet that you want to talk to them and address it, and share all the weaknesses I have because I've fallen many times," he stated.
"It's something I want to do. I can't play football forever. I've been blessed with an amazing platform and it's just a door God has opened, but I still have a lot of school left and a long journey."
Others, such as Eagles' punter Donnie Jones, also placed their faith in God in the run-up to the major event.
"[I] always know that He's going to be there, He's going to take care of you," Jones, who attended a Catholic High School in Baton Rouge, said of God.
"That's kind of been the way of my career. I've moved around with five teams. When I didn't know things were going to work out, He always put me in the right spot. You've got to have faith, believe," he added, according to The Catholic Spirit.