Supreme Court 'Approval' of Gay Marriage, Christian Responses and Popular Opinion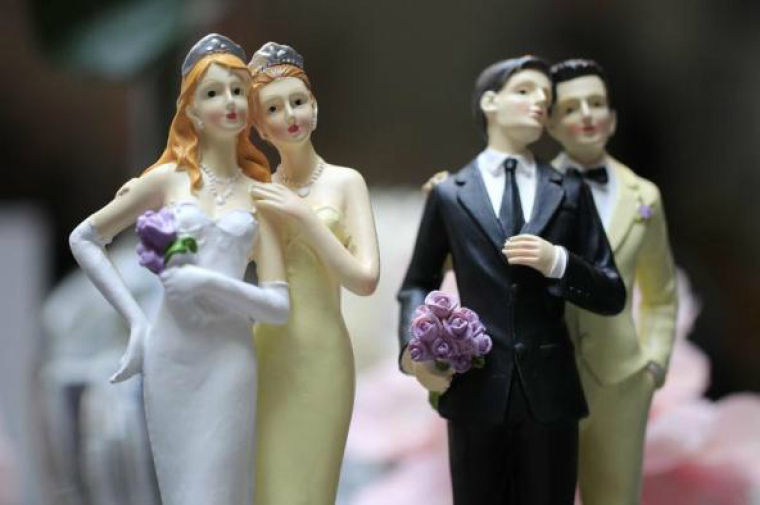 NEW YORK — The Supreme Court has declined to hear appeals affecting the legalization of gay marriage in five states, effectively doing away with attempts to maintain the traditional definition of marriage in those states. As a result, six other states will likely follow suit as they also fall under the same federal court jurisdiction. This means that same-sex marriage could be legal in 30, or even 35 states, plus Washington, D.C. if the trend continues.
Eric Metaxas, author, television host and outspoken religious freedom advocate, shared his thoughts with The Christian Post about the Supreme Court's latest move, which gay marriage proponents have cast as the "final legal stamp of approval to marriage equality."
Indeed, supporters of same-sex marriage see the Supreme Court's refusal to take up the issue as "a tactic to win gay marriage."
Some concerned conservatives and supporters of traditional marriage, on the other hand, have cast the justices' decision as "judicial tyranny." One group, Americans for Truth About Homosexuality, put out a statement calling for "civil disobedience on a massive scale."
Russell Moore, president of the The Ethics & Religious Liberty Commission and a more moderate voice, suggests Christians should model "the best aspects of the pro-life movement." As Moore sees it, "the primary thrust of the movement wasn't about culture wars but cultural persuasion."
He added, "This is no time for retreat or for resentment."
For Republicans concerned about winning votes in November's midterm elections, there were suggestions that some politicians, though longtime trumpeters of traditional marriage values, would in fact retreat from the issue, in light of the Supreme Court's move.
According to a CBS News report, that was the case, at least for Republican Gov. Scott Walker, whose state of Wisconsin was affected by the Supreme Court's refusal to consider appeals against the legalization of gay marriage. As he told the network, gay marriage essentially was now a dead issue.
"To me, I'd rather be talking in the future now more about our jobs plan and our plan for the future of the state. I think that's what matters to the kids. It's not this issue," said Walker.
Some Republicans fearing such responses have reiterated that conservative stances on marriage and life issues were non-negotiable.
"If the Republicans want to lose guys like me and a whole bunch of still God-fearing and Bible-believing people just go ahead and abdicate on this issue," said former Arkansas Gov. Mike Huckabee during a recent American Family Association radio program.
The potential 2016 Republican presidential candidate and conservative Christian added, "And while you are at it, go ahead and say abortion doesn't matter either because at that point you lose me."
Tony Perkins, for his part, blasted the "rogue lower court judges" who have declared bans on same-sex marriage as unconstitutional despite how residents in affected states have voted.
"Even more alarming, lower court judges are undermining our form of government and the rights and freedoms of citizens to govern themselves," Perkins wrote in a statement on his conservative Family Research Council website. "This judicially led effort to force same sex 'marriage' on people will have negative consequences for our Republic, not only as it relates to natural marriage but also undermining the rule of and respect for law."
Although residents in states affected by the Supreme Court's non-decision have used the democratic process to show their rejection of the redefinition of marriage, national surveys indicate that nearly 50 percent of Americans support same-sex marriage. Among Millennials, those aged 18-33, 68 percent of them were in favor of legalizing gay marriage, according to Pew social trends.
A Pew Research Center survey on religion and public life conducted in early September found that 49 percent of Americans say they are in favor of allowing gay men and lesbians to marry. However, half of respondents consider homosexuality a sin, a view held by 82 percent of white evangelicals and 77 percent of black Protestants. Overall, 35 percent of Protestants are in favor of legalizing same-sex marriage, and 52 percent of Roman Catholics.
Among Protestants in favor of gay marriage were the newly-debuted group, Evangelicals for Marriage Equality, which celebrated the Supreme Court's move this past Monday.
Brandan Robertson, spokesperson for Evangelicals for Marriage Equality, insists, however, that "despite this judicial victory for civil marriage equality, the battle for hearts and minds — especially among evangelicals — continues."
For Metaxas, who also co-hosts the "BreakPoint" radio program, popular opinion on same-sex marriage holds very little weight, in comparison to how citizens actually vote.
"Most Americans don't know how America is supposed to work, and I include myself. We haven't had for 40 years ... we haven't had education on this stuff, like it's something we've kind of skipped for the last 40 years. So we think, 'How's America supposed to work?' It's supposed to work that we have a democracy, so people get to vote," he said in a recent "CP Newsroom" discussion.
"It's not about popular opinion. It's not about polls. It's about votes. So if you take a poll and ask people, 'So what do you think? What do you think?' I don't really care what people think. I care if they were motivated to get their rear ends to the voting booth. If they weren't motivated to do that, I couldn't care less what they think," added Metaxas.
Watch the "CP Newsroom" video below to hear why Metaxas believes elected officials do sometimes need to buck popular opinion and why Christians who support same-sex marriage should be the biggest proponents of religious freedom. His op-eds also appear on The Christian Post.