Supreme Court orders California to lift restrictions on at-home worship gatherings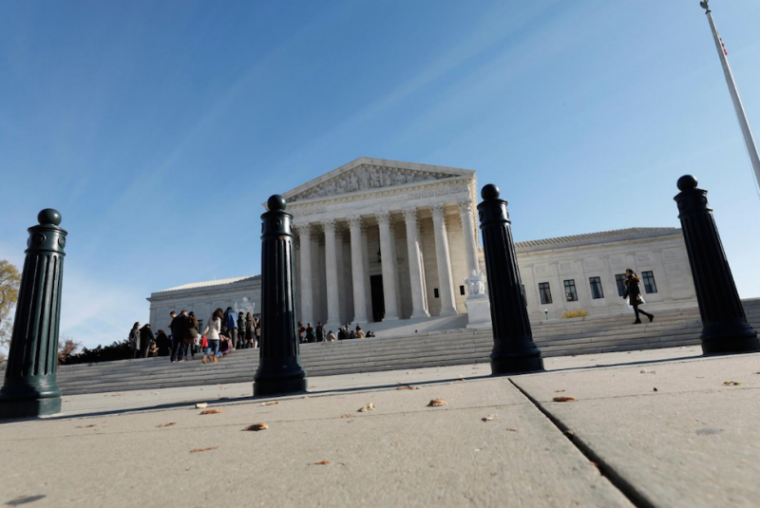 The U.S. Supreme Court on Friday issued an order blocking California from enforcing restrictions on in-home religious gatherings, including prayer meetings and Bible studies. 
California's rule that limits at-home religious gatherings to three households violates the First Amendment's protection of religious exercise, the court ruled in a 5-4 unsigned order chiding the Ninth U.S. Circuit Court of Appeals for its failure to grant an injunction. 
"California treats some comparable secular activities more favorably than at-home religious exercise, permitting hair salons, retail stores, personal care services, movie theaters, private suites at sporting events and concerts, and indoor restaurants to bring together more than three households at a time," the majority opinion stated. 
The Rev. Jeremy Wong and Karen Busch in Santa Clara County filed a motion seeking an injunction to the state's rules. Before the pandemic, Wong and Busch regularly held Bible studies, prayer meetings and worship services at their homes as they believe in the vital importance of assembling for small group "house church." 
Forming the majority were Justices Clarence Thomas, Samuel Alito, Neil Gorsuch, Brett Kavanaugh and Amy Coney Barrett. The latter three are appointees of former President Donald Trump.
The court's liberal Justices Elena Kagan, Sonia Sotomayor and Stephen Breyer dissented. Kagan, an Obama-appointee, wrote the dissent and cited lower-court findings that argued the risk of infection is lower while shopping or visiting a barber than when people gather in private homes, where the interaction generally lasts longer with less ventilation and social distancing is more difficult.
"California limits religious gatherings in homes to three households. If the State also limits all secular gatherings in homes to three households, it has complied with the First Amendment," she wrote. "And the State does exactly that: It has adopted a blanket restriction on at-home gatherings of all kinds, religious and secular alike. California need not … treat at-home religious gatherings the same as hardware stores and hair salons."
The order noted that "this is the fifth time the Court has summarily rejected the Ninth Circuit's analysis of California's COVID restrictions on religious exercise."
Chief Justice John Roberts, a George W. Bush appointee, sided with the three Democratic appointees. However, he did not join their dissenting opinion. 
Numerous churches have challenged state and local COVID-19 restrictions on worship services and gatherings during the pandemic. The Supreme Court had earlier issued rulings against coronavirus-related restrictions in California and New York. 
Before the passing of Justice Ruth Bader Ginsburg, the nation's high court appeared to side with authorities on pandemic gathering restriction questions. But Barrett's nomination in October has cemented a conservative majority on the court. 
In their plea for emergency intervention, the petitioners said they "sincerely believe assembling for small-group, 'house church' fellowship is just as indispensable to their faith as attending Mass is for a Catholic."
"Yet for over a year now, California has completely prohibited or substantially restricted those 'gatherings' and many others," the motion argues. 
"By contrast, the State allows countless other activities to take place outdoors without any numerical limitations, from weddings and funerals to secular cultural events and political rallies. It also permits more than three households to congregate inside buses, trains, universities, airports, barber shops, government offices, movie studios, tattoo parlors, salons, and other commercial venues."
California is set to ease restrictions this week, as residents are receiving vaccines.
"[A]lthough California officials changed the challenged policy shortly after this application was filed, the previous restrictions remain in place until April 15th, and officials with a track record of 'moving the goalposts' retain authority to reinstate those heightened restrictions at any time," the Supreme Court order stated.