Syrian Troops Capture Notorious ISIS Executioner 'The Bulldozer of Fallujah' (Video)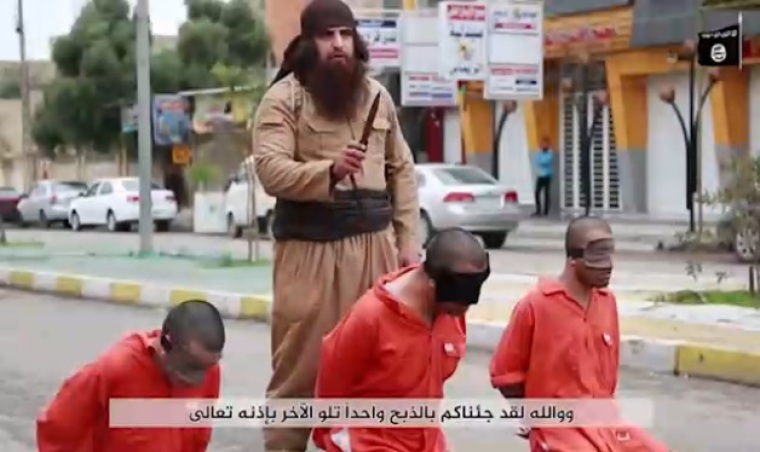 Syrian troops have captured a notorious Islamic State executioner who is known to the West only by his nickname, "The Bulldozer of Fallujah."
Videos have surfaced online this week purporting to show Syrian Army troops dumping a heavyset IS (also known as ISIS, ISIL and Daesh) militant into the back of a pickup truck and hauling him away.
One video shows the militant, who has his hands tied behind his back and is not wearing a shirt, grimacing as he lies on his back in the bed of the pickup truck while Syrian troops gather around to take photos and videos of the writhing man before the truck pulls away.
The Daily Mail reports that the overweight IS extremist seen in the back of the pickup truck is believed to be one of the group's prominent executioners, "The Bulldozer," who is known for chopping off the heads, hands and feet of the group's prisoners in Iraq.
"The Bulldozer," whose real name and identity remains uncertain because he usually wears a mask to ensure that his face is not shown in IS videos and photos, is considered to be a member of IS' so-called "Chopping Committee."
The jihadi brute was first seen in a photo that surfaced online in 2014 that showed him in camouflage gear and a mask carrying an extremely large Browning machine gun equipped with bullet-piercing ammo. The gun that "The Bulldozer" was carrying is so large that it is typically mounted to the back of a pickup truck and not carried by a man.
In October of last year, "The Bulldozer" gained more notoriety when pictures surfaced online of him using a large beheading sword to publicly chop off the hand and foot of a 14-year-old Free Syrian Army fighter while his identity was protected under black gear and a black mask.
In March, it is believed that "The Bulldozer" revealed his face when he carried out a videoed beheading of three Kurdish fighters in Mosul.
In the execution video, "the Bulldozer" appeared to have a long brown beard, long brown hair and a light skin tone, which represents a similar appearance to the man who was captured and dumped in the back of the pickup truck by the Syrian Army.
"The Bulldozer of Fallujah" is not the only IS fighter to have been given an intimidating nickname.
Famed IS executioner Mohammed Emwazi, who is notorious for killing American journalists James Foley and Steven Sotloff along with other westerners in publicized execution videos that opened the world's eyes to the brutality of IS in 2014, was nicknamed "Jihadi John."
Emwazi was killed late last year in a U.S.-led coalition drone strike. Following Emwazi's death, IS' English-language propaganda magazine Dabiq published an obituary for its "honorable brother."