TD Jakes on Conn. School Shootings: 'We Are Our Brother's Keeper'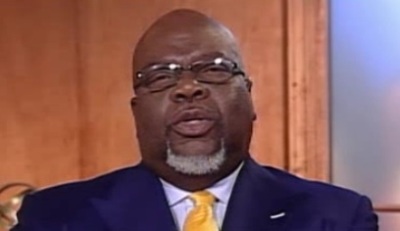 T.D. Jakes, pastor of The Potter's House in Texas, appeared on MSNBC's "News Nation with Tamron Hall" on Monday and called for mutual responsibility in light of the deadly mass shootings at Sandy Hook Elementary School in Newtown, Conn.
In the interview, Jakes stressed the importance of maintaining a sense of community when tragedies such as these strike, and remembering that each person has a responsibility to watch out for their neighbor.
"We owe it upon ourselves to be careful to look out for those who are mentally, emotionally ,or psychologically disturbed to help them to get the help that they need before it erupts into this type of violence," Jakes told Hall.
Jakes added that although he believes it is "out of [his] lane" to speak on the topic of gun control, he believes "something has to be done, not only for those that are mentally ill, but I also I think that we have to be careful about people who are under such stress today that they start out well but they don't end up well."
"We all have to be watchmen on the wall, and answer the great question of the Scriptures: 'Am I my brother's keeper?'" Jakes continued.
"We all are mutually responsible to make sure our brothers are well taken care of and definitely that our children are kept safe," the famed pastor added.
Jakes concluded the interview by describing how he finds comfort in his faith in times such as these, saying the "presence of faith does not remove the presence of doubt; they co-exist in us."
The true test, according to Jakes, is to allow God's "greater voice inside of you to be the one you trust."
Jakes is the senior pastor of The Potter's House, located in Dallas, Texas, which boasts an attendance of 17,000 people.
On Dec. 14, police reported that gunman Adam Lanza, 20, opened fire on children and staff attending Sandy Hook Elementary School in Newtown, Conn.
Lanza killed 20 children and six adults before turning the gun on himself, shooting himself in the head as first responders arrived at the scene of the crime.
Lanza's mother was also found shot dead, presumably by her son, in her home in Newtown, Conn.