Televangelist Jim Bakker Sells Silver Gel, Claims It Can Cure Sexually Transmitted Diseases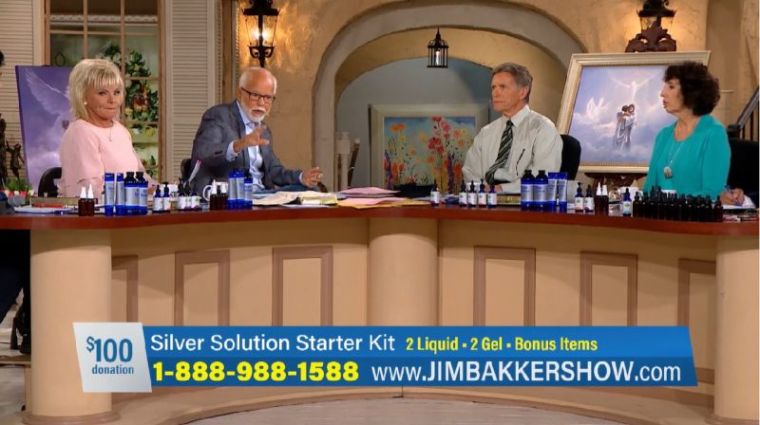 Televangelist Jim Bakker continues to sell a wide-range of health and food products on his show, including a silver gel liquid that was presented as a cure for sore throats and even venereal diseases.
Bakker introduced the product on his program "The Jim Bakker Show" last week in a discussion on health benefits with Dr. Sherrill Sellman and special guest Frank Davis.
He said that the silver solution, part of a starter kit that is being sold on his website for $100, has a variety of health benefits that can aid body pains and ills.
"If I start getting something [like a sore throat], I just take a little sip of this," Bakker said while promoting the solution, noting that it has helped him get rid of problematic hiccups, among other things.
"This is something I use every day. It knocks out sore throats," he said, adding that it's "the greatest multiple product that treats multiple things."
When addressing the audience over the multiple-day show, other videos of which can be watched here and here, he asks: "Do you know the one thing we never talk about, really, is one of the few gels and products that cures, or gets rid of, all venereal diseases?"
"This is like a ... miracle in a tube!" adds his wife, Lori Bakker.
The website's store positions that few people realize the benefits of silver.
"We may have barely begun to scratch the surface in the knowledge of what this beautiful and amazing metal can do to help reduce suffering and possibly save mankind. Silver has natural, God-given actions unlike any other metal or element that exists. There are many other elements that have value, but none has been blessed with the medicine chest of medicinal effects that silver has," it states.
It insists that "silver is a natural and very effective antimicrobial," and it can "kill a broad spectrum of pathogens like; problem bacteria, yeasts, fungus, many parasites, and it can even kill or neutralize deadly virus."
Bakker runs his show from the Morningside community of Blue Eye, Missouri, which the controversial televangelist — who served time in prison for financial wrongdoing that cost him his ministry in the 1970s — has claimed can survive the end of the world.
His show sells various types of survival gear, such as packs of water bottles that cost $150, and many other items.
"Do you know the people from the government, from NASA, the research from so many of them, they have said in their research that the safest place to live in troubled times is right here. That's why God brought us here," he said of his town back in May, though did not provide links to such statements.
He added that he is looking for "people on fire for God" to live in the community, stating that "there is nowhere on earth you could live with more of God's generals."