Tenn. Chick-fil-A Serves Black Lives Matter Protesters Upset by Dan Cathy's Blue Lives Matter Support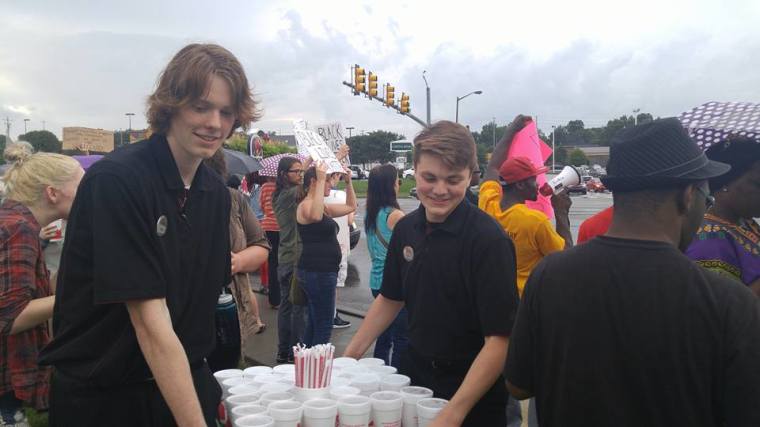 Supporters of the Black Lives Matter movement protesting Chick-fil-A company President Dan Cathy's support of the Blue Lives Matter campaign were recently shown some love by a Tennessee Chick-fil-A franchise.
Members of the Tri-Cities Black Lives Matter movement had been protesting in front of a Chick-fil-A in Johnson City when the franchise owner reached out to them with a kind gesture, according to a report from WJHL. The owner and restaurant employees served lemonade to protesters on both sides of the debate on racial justice.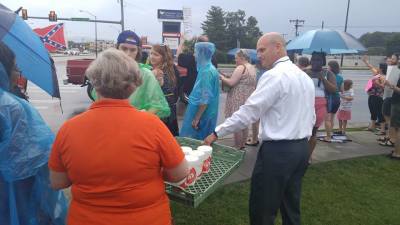 The Black Lives Matter protesters gathered because they wanted to "send a message" to the national Chick-fil-A chain for its open support of Blue Lives Matter, a pro-police movement started to counter Black Lives Matter after NYPD officers were ambused and killed in 2014.
"We want to raise awareness especially with the Blue Lives Matter campaign, which was a way to silence the Black Lives Matter movement," Black Lives Matter protest organizer Whitney Prater previously told WJHL. "That is one of the reasons that we chose to have it at Chick-fil-A. We are not targeting that Chick-fil-A specifically. The national Chick-fil-A started that campaign."
The city's Vice Mayor David Tomita had snapped photos of the protest, which was peaceful throughout — according to the report — and those photos surfaced on Facebook. In a period of about 24 hours Tomita's photos had garnered 1.7K likes and had been shared 1,000 times.
The Chick-fil-A store's kind gesture to Black Lives Matter protesters come amid continuing racial unrest across the country that has boiled over after the recent police shooting deaths of Louisiana resident Alton Sterling and Philando Castile of Minnesota, and the subsequent killing of five Dallas police officers — Brent Thompson, Patrick Zamarripa, Michael Krol, Lorne Ahrens and Michael Smith — at the hand of a black sniper who said he was targeting white officers.
America's growing racial tension and a solution for turning things around were addressed this week in an op-ed for The Christian Post penned by Califonia's The Rock Church Pastor Miles McPherson, who said he is a black man whose father and son are police officers so he knows both sides of the story.
In it McPherson wrote, "You will hear people call for peace, which comes from unity. Unity comes from agreement, yet the sides in this issue still stand so resolutely separate. There are people of color who fear cops, and there are cops who fear people of color. The tension is undeniable. Both sides live in fear."
"I know that in order to come to agreement on issues of race and violence — and ultimately find the lasting peace we long for — we must lay down our own agenda in favor of God's."
The pastor went on to say, "The Bible says 'there is no fear in love; but perfect love casts out fear' (1 John 4:18). For all of us who are afraid — African-Americans, the police, you and me — the remedy to our fear is the perfect love of God. We will never experience freedom from fear without first coming into contact with God's perfect love."