Teresa Heinz, of Heinz Ketchup Fortune and Wife of John Kerry, Hospitalized in 'Fair' Condition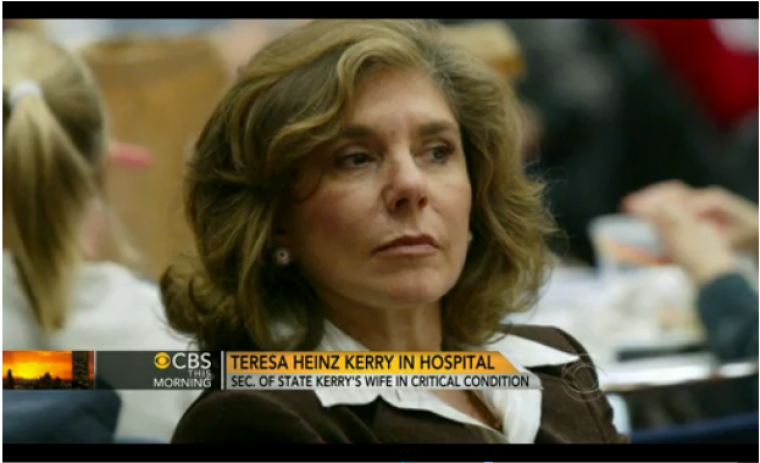 The condition of Teresa Heinz, heir to the Heinz Ketchup fortune and wife of U.S. Secretary of State John Kerry, has been upgraded to fair after being hospitalized in critical condition on Sunday night, according to the State Department.
Heinz, 74, who is estimated to be worth between $750 million and $1.2 billion, was flown to Massachusetts General Hospital on Sunday night after she was admitted in critical condition and stabilized by doctors at Nantucket Cottage Hospital, according to a CBS News report on Sunday.
Reuters reported on Monday that family sources think Heinz may have suffered a seizure.
"After conducting tests overnight and this morning, doctors at Massachusetts General Hospital have upgraded Mrs. Teresa Heinz Kerry's condition from critical to fair," Kerry spokesman Glen Johnson said in a written statement noted by Reuters.
"She is undergoing further evaluation, and Secretary of State John Kerry, her son, and other family members remain with Mrs. Heinz Kerry at the hospital in Boston, as they have been since she became ill," Johnson said.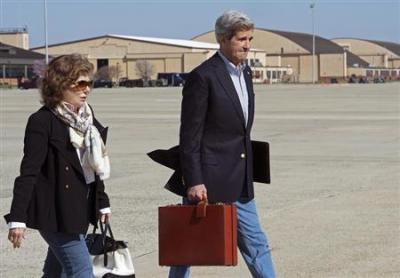 Secretary of State Kerry has been at the couple's Nantucket home since his return from an almost two-week-long diplomatic trip to the Mideast and Southeast Asia.
Before Heinz' medical emergency, Kerry had planned to return to Washington on Monday to co-host high-level strategic and economic talks with senior Chinese leaders and Treasury Secretary Jack Lew.
Those plans are now in limbo pending his wife's medical outlook.
Heinz and Kerry wed in 1995. She is the widow of former U.S. Senator John Heinz who died in a 1991 helicopter crash.
CBS News notes that Nantucket Police Lt. Jerry Adams said a request was made for medical help just after 3:30 p.m. on Sunday for a home on Hulbert Avenue. Online records indicate the property is connected to the couple's family.
Heinz was treated for breast cancer in December 2009 and had said she discovered she had cancer after her annual mammogram in late September of that year.
She underwent lumpectomies on both her breasts when doctors discovered a benign growth on her right breast.
Heinz is the chairman of the Heinz Endowments and the Heinz Family Philanthropies. According to the Heinz Endowment, she is involved with environmental issues, has served on numerous boards and has been awarded 10 honorary degrees.