Terror Group Al-Shabaab Features Donald Trump in Recruitment Video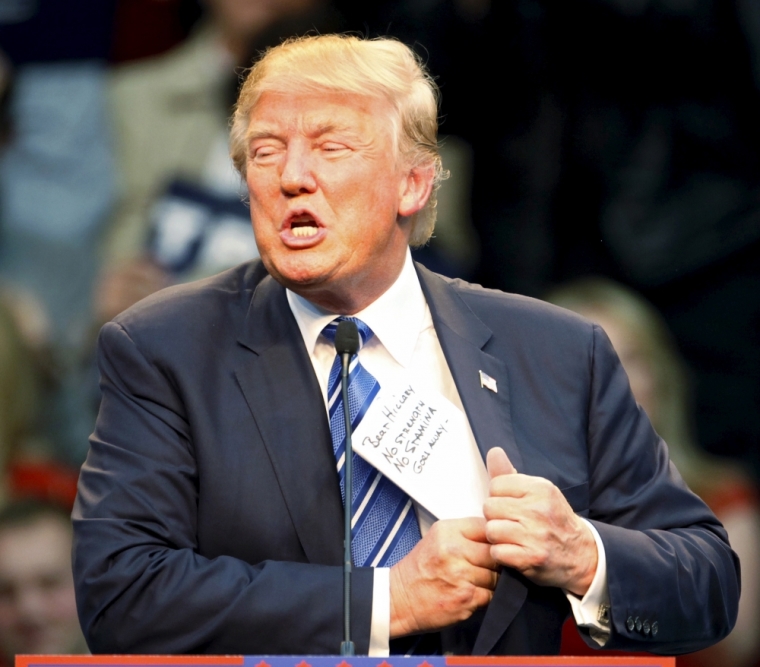 The Somalia-based al-Shabaab terror group has released a new video, apparently to seek recruits from within the United States and to convert black youths to Islam, featuring remarks of Republican presidential frontrunner Donald Trump over banning Muslims from entering America, according to reports.
The nearly hour-long video first shows a warning from al-Qaeda leader Anwar al-Awlaki, who was killed by a U.S. drone in 2011.
"Muslims of the West: Take heed and learn from the lessons of history," al-Awlaki says in English in the video, according to CBS News. "There are ominous clouds gathering in your horizon. Yesterday America was a slang of slavery, segregation, lynching and Ku Klux Klan. Tomorrow it will be a land of religious discrimination and concentration camps."
The video, posted to the website of SITE Intelligence Group, then shows Trump speaking from a podium at a South Carolina rally proposing a total ban on Muslims.
"The West will eventually turn against its Muslim citizens," al-Awlaki says after Trump's remarks. "Slowly but surely, your situation is becoming similar to that of the embattled Muslim community of Spain after the fall of Granada."
The video also mentions police shootings in the United States, including the killing of black youth Michael Brown in Ferguson, Missouri, and Walter Scott in South Carolina, in a likely attempt to seek conversion of black youth.
In April 2015, the al-Qaeda-linked al-Shabaab killed nearly 150 students in a targeted attack on Christians at Kenya's Garissa University College.
In December, Hillary Clinton said at ABC presidential primary debate in New Hampshire that Trump is "becoming ISIS's best recruiter."
She said the Islamic State terror group, also known as ISIS or ISIL, "are going to people showing videos of Donald Trump insulting Islam and Muslims in order to recruit more radical jihadists."
She added, "I worry greatly that the rhetoric coming from the Republicans, particularly Donald Trump, is sending a message to Muslims here in the United States and literally around the world that there is a clash of civilizations, that there is some kind of Western plot or even war against Islam, which then I believe fans the flames of radicalization."
ISIS is an offshoot of al-Qaeda and wants to establish a caliphate in the Levant region and beyond. It has gained control over large swathes of territories in Syria and Iraq.
Trump later responded, saying on ABC's "This Week," "Knowing the Clintons and knowing Hillary, she made it up."
Clinton's campaign then clarified that she wasn't referring to a specific video. "She's not referring to a specific video, but he is being used in social media by ISIS as propaganda," Clinton Communications Director Jen Palmieri was quoted as saying.