Actor Terry Crews says having a praying wife is 'absolutely the best feeling in the world'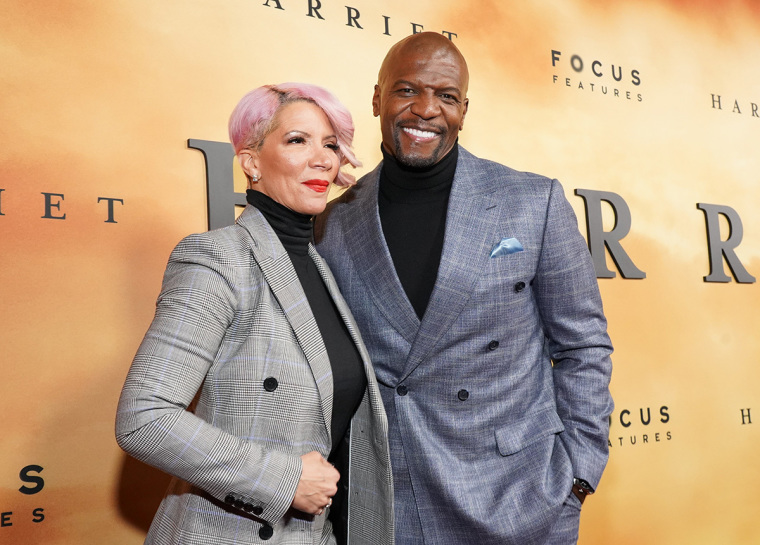 LOS ANGELES — Actor and professing Christian Terry Crews celebrated the power of a praying wife at the 30th annual Movieguide Awards, which he hosted at Avalon Hollywood & Bardot last Friday. 
Crews honored his wife, Rebecca, while walking the red carpet at the popular awards show, which highlights faith and family-centered entertainment. 
"She's a praying woman," the "America Got Talent" host gushed in an interview with The Christian Post.
The couple has been outspoken about their struggles and Crews' past porn addiction that infiltrated his life when he was just 9 years old. He kept it a secret from his wife for almost 20 years, nearly destroying their marriage. 
"She has prayed us through so many things," he continued." One thing I know is that to have a woman like that, who really wants the best for you, let me tell you, there's no replacing."
"It's absolutely the best feeling in the world," Crews declared. 
Her prayer life has made them "tighter" as a couple. "It makes us better," he added. "It's just an incredible feeling."
During the Movieguide Awards show that recognized family-friendly entertainment released in 2022, Crews said there are many believers in Hollywood despite popular opinion. "Hollywood gets a bad rap ... there are a lot of Christians in Hollywood, there are a lot of praying people in Hollywood, a lot of God-fearing people in Hollywood. We just don't always get an awards show, and here it is!" 
"That's why I knew it would be perfect for me to host this show," Crews told CP. "I just feel the blessing, I feel all the good energy here tonight, and it's wonderful!"
In a previous interview with "Entertainment Tonight," Crews revealed that he and his wife went on a "90-day sex fast" to help him overcome his porn addiction.
Crews found the break refreshing because it took him back to a time of innocence.
"What was so beautiful about that was it took me to a time when I was 12 years old, and I liked a girl and I didn't know anything about sex," he said at the time. "But all I did was give her a flower and say, 'I like you for who you are.' And it wasn't about sex. It took us back to those moments."
The former NFL player said it felt like he was 12 years old again "because sex had been taken out of the equation and it was all about love again."
Today, the couple uses their experience to help others.
Rebecca Crews did not judge her husband, but she also set a firm boundary and told him if he didn't change, she would divorce him.
"She always said, 'I love you; this is why I have to leave you.' That was the whole [thing]," he explained. "It wasn't judgmental; it was always like, 'I love you too much to even stay with you right now.'"
"It was so deep, and I was like, 'If she can make these kinds of statements to me, then how could I not do the work?'" he added.
Celibacy and therapy put Crews on the path to overcoming his addiction.
Rebecca Crews previously told CP that her husband's porn addiction also led to infidelity in their marriage. 
"We understand the Bible says lust is never satisfied. So, when you toy with something like an addiction to porn, it's going to lead you to other places," she said.
"He begged me, begged me not to leave him," Rebecca revealed. But she did let him go for a time. After they separated, Crews brought his issues before God and got help. His wife eventually forgave him and took him back.
"Had I not seen the effort on his part, I couldn't have been forgiving. ... I'm very proud of him. I'm very thankful that he made the choice to deal with demons and to save our family because we need him."
Crews can be seen hosting the Movieguide Awards when it's televised on UPtv on Feb. 26.