The Bible Miniseries Goes on Tour; Mark Burnett and Roma Downey's Hit Biblical Epic to Go on 16 City Tour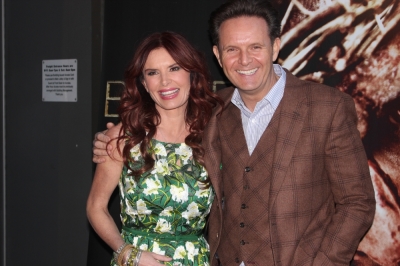 Come March 2014, American fans of the hit "Bible" television series will be able to swap their living room couches for concert seats. Following next year's release of "Son of God," a 16-city music tour based on themes from the show and movie will kick off.
Featuring Christian recording artists such as Natalie Grant, Francesca Battistelli and Sidewalk Prophets, The Bible 2014 Tour will open at Saddleback Church in California on March 20, and feature songs and imagery inspired by the mini-series and movie. Many of the show's almost month-long tour stops will be held at churches.
Roma Downey, one half of husband-wife executive producing team behind "The Bible" franchise, said that she expects the production to be a powerful experience for attendees.
"I think that music just has such a wonderful ability to connect and open your heart and the images from our film certainly are going to touch your heart," Downey told The Associated Press. "So I think it's just going to be a really beautiful, heartfelt experience all around for people to attend."
Downey and husband, co-producer Mark Burnett, credited Saddleback Church's pastor Rick Warren for giving them the advice that made their "Bible" project a reality.
"Rick Warren said to me and Roma, 'You know one of the most dangerous prayers that you can pray is, 'Use me,' because he will,'" Burnett told the Associated Press.
"And we can see how that played out in our lives. We've been working for God ever since," Downey added.
"Son of God," which will be released on Feb. 28, is currently screening with religious and business leaders. A trailer for the film, which includes new scenes and footage from the miniseries, is set to hit theaters this week.
The History Channel mini-series averaged 11.7 million viewers, pulling in roughly 13.1 million viewers when it premiered in March 2013. It is currently playing in Hong Kong and will soon debut in the United Kingdom and Ireland, where the Irish Downey and British Burnett are from.