The Christian Post's top 10 news stories of 2020 (part 2)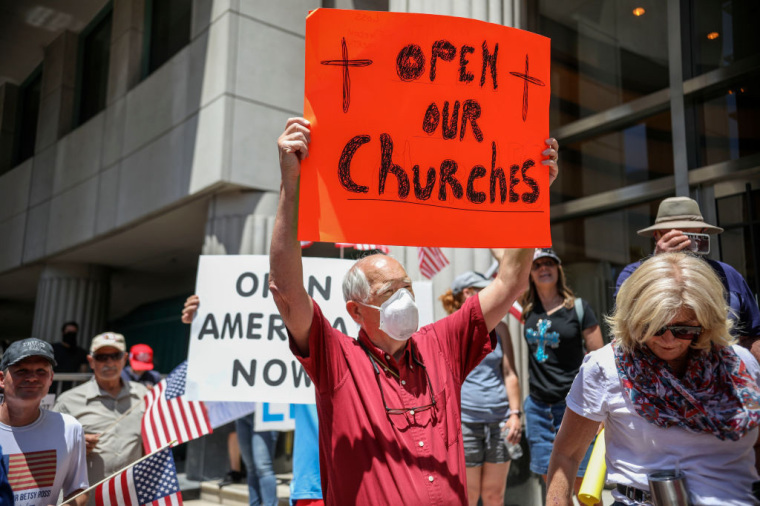 1. How death, tech and debate challenged the Church amid the pandemic in 2020
In 2020, the coronavirus pandemic shuttered churches, claimed the lives of many elderly spiritual leaders and members — particularly in black and Hispanic communities — and caused a seismic shift toward online ministry and sparked fierce debates about religious freedom.
At the Blessed Virgin Mary convent in Livonia, Michigan, at least 13 members of the Congregation of the Sisters of St. Felix of Cantalice, or Felician Sisters died after the virus swept through the compound "like wildfire."
Members of the New St. Luke Missionary Baptist Church of Detroit begged God for a miraculous end to the pandemic after their pastor, the Rev. Nathaniel Slappey Sr., and his son, Nathaniel Slappey Jr., died just days apart from the virus in May.
Others, like the late Pastor Ronnie Hampton of New Vision Community Church, died after battling the virus which he thought God had sent him as a test.

Bob Bryant, who served as associate pastor of benevolence at the multisite Water of Life Community Church in California, is among the most recent to have died from the virus in 2020.
Public health restrictions prevented many churches from hosting usual funerals to mourn their dead as they resorted to limited gatherings and online broadcasts, but not every pastor willingly accepted restrictions on their ministries.
Pastor Rodney Howard-Browne, leader of Revival International Ministries and The River at Tampa Bay Church in Florida, became the first high-profile pastor in the resistance to insist his First Amendment rights were being violated after he was arrested for leading two large worship services during the pandemic.
The restrictions, which fed into policy heavy political debates, also sparked several protests across the country.
In July, megachurch Pastor Jentezen Franklin cried "discrimination" and urged Christians to vote their faith in November as the California Department of Public Health issued updated guidelines, forbidding churches from singing during services to prevent the spread of COVID-19.
Other influential Christian leaders like Pastors John MacArthur and Andy Stanley highlighted the divided response the Church had to pandemic restrictions in 2020.
MacArthur, who leads Grace Community Church in Sun Valley, California, argued that while it's "crystal clear that God has ordained government," he would no longer aid and abet the "lie" of the ongoing lockdowns in response to COVID-19.

"I've been here 50 years; the church is 63 years old, and this church has never had any kind of mandate from the government to close," MacArthur said in an interview with Billy Hallowell in August. "So when they came up with this mandate it seemed to be so rare and so unusual that we were listening."
Upon hearing dire predictions about the death toll, MacArthur said it was "enough to make anybody with common sense" pause and take steps to ensure no one was endangered. The church initially moved to a live stream model and closed down in-person services — but within a few weeks, MacArthur said parishioners started showing up again.
Despite facing the prospect of fines and the threat of jail time as a result of his refusal to comply with coronavirus regulations, MacArthur has maintained that it's the church's biblical responsibility to stay open and hold worship services.
Stanley who leads North Point Community Church in Alpharetta, Georgia, argued against general civil disobedience among churches against government restrictions because he thinks it's unnecessary because churches can gather in other ways.
Other influential leaders. like Bishop T.D. Jakes, slammed Christians who flout social distancing guidelines as a demonstration of how their faith will protect them from the coronavirus as "foolishness" and "dumb."
"I believe in faith, I believe in God, I believe in the Bible, I believe in the Word of God, but I also believe in common sense," said Jakes, senior pastor of The Potter's House in Dallas, Texas, in a Facebook Live broadcast.
Research from the Nashville-based LifeWay Research conducted in the fall of 2019, showed that when the pandemic hit, many churches were not prepared. The study found that just 22% of pastors livestreamed their entire service while about 10% livestreamed their sermon only. Some 41% of pastors admitted that they didn't post any portion of their church service online, while about 52% said they would generally post the sermon online after the church service was complete.
With the arrival of the pandemic and a majority of churches facing reduced giving, many churches across all denominations began urging their congregants to donate online as they shifted to online services as well.
Many churches in some of the hardest-hit areas have now had to shift their services online and practice social distancing and mask-wearing. Other churches found creative ways to serve during the pandemic, like becoming temporary testing sites for the coronavirus in underserved communities and distributing food to people in need.

Leonardo Blair contributed to this report