The Gettys Share One Thing Churches Can Do in a World Where 'Meaningful Discourse' Is Almost Dead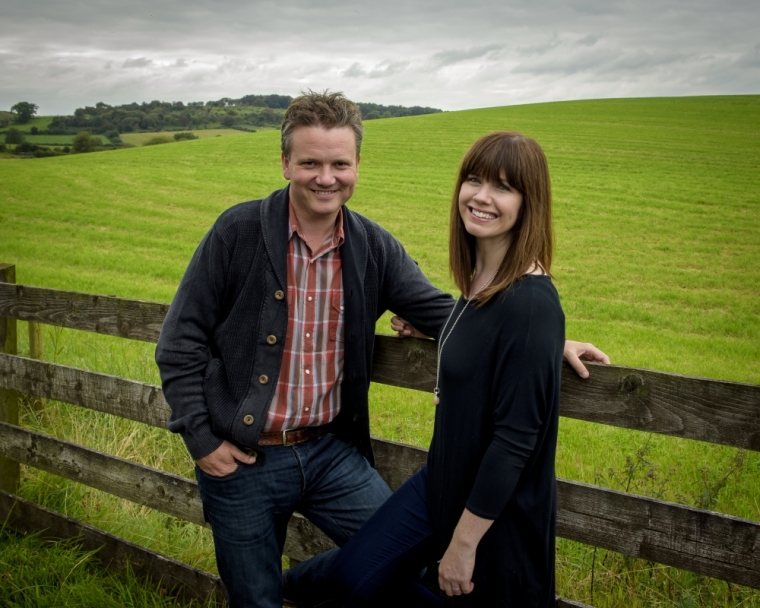 World-renowned contemporary hymn writers The Gettys recently released their live album Sing!: Live at the Getty Music Worship Conference. As they gear up for their next major conference, Keith Getty shared the congregational practice he believes churches can do to bring people together in these divisive times.
The Gettys' hit song "In Christ Alone" is sung by more than 100 million people worldwide every year, and now with "The Sing! Conference," which was first launched last year in correlation with the 500th anniversary of the Reformation, Keith and Kristyn Getty's hope is to propel churches toward a "deeper, more dynamic" experience of congregational singing. The new album features new songs, timeless classics and special guest collaborators which all wish to unite the church irrespective of the times we live in.
Below is an edited transcript in which Keith Getty tells The Christian Post why he believes the church coming together in song can greatly impact the current cultural climate where suicide is at an all-time high and social and political civility is at an all-time low.
Christian Post: Your mission has been to see congregational worship in the churches of the world. Can you speak to the power of worship in bringing all people together?
Getty: The very act of congregational worship is a symbol of unity. At a theological level, we are looking forward to the picture of Heaven where every tribe, tongue, nation, and language will sing before their Maker. Here on earth, we have a microcosm of that experience in our congregational worship.
At a very practical level though it is actually on a Sunday morning, reminding each other, encouraging one another, empowering one another by singing to one another. It's not simply because I feel like I must sing, it's also the horizontal dimension which is significant. We are also a witness and leader to our own families and indeed even a witness to the outsider in the church, whatever the state of their spiritual minds.
CP: Unity is always a popular topic in the Christian community and it's a central theme in your new album. Can you speak to the impact unity can have on the world in its current state when watching the news here in America sometimes seems to display so much divisiveness and social unrest?
Getty: I really can't. I've no expertise on such issues. I can say this though: in the society you have so accurately described, where emotional breakdown and suicide are at record highs, where family breakdown and confusion have left whole cultures crippled, where even common decency, whether a form of cordial manners to neighbors or the ability to have meaningful discourse on social or political issues with each other in person or online has all but died, and where our political leaders, celebrities or media are such pathetic examples, surely what could be more beautiful than Gods people singing together? What could be more inviting than the joy of a community singing with joy and love to one another?
What could be more radical than singing breaking down generational, socio-economic, and political ideology barriers for the sheer delight of singing to one another about how much greater Christ is. And in a society so contrived, what is more authentic than people pouring all their passion into singing to the Lord because of what Christ has done through the Cross and resurrection?
That's unity worth striving for.
CP: Your next Getty Music Worship Conference: Sing! is coming to America in September. What are you looking forward to most?
Getty: We're really on a five-year program right now, where year two is the Psalms. I've never felt a more important time to really address the psalms. I took 150 days out to study each of the psalms, attempt to set them all to music and try and understand them as a whole.
They paint such an extraordinary picture of God and help us in ways that are artistic, magnetic, raw and emotional to bring all our human emotion "Godward."
They join us to the past and point us so clearly to the future and the need for God in every part of life.
CP: What message are you hoping everyone leaves the conference with?
Getty: I guess two main things.
Firstly, if you want go deep inside Christian sung worship songs, prayer, Bible reading, preaching, liturgy or service design and indeed go into the whole of the Christian life, you need to understand the Bible's songbook.
Secondly, by reading and praying and singing the Psalms, you understand God better and ultimately understand your own identity better as well. You become so much more healthy and whole.
CP: Can you speak to the difference between hymns and modern-day worship?
Getty: In some ways they are similar. It was Augustine who said quite simply that a hymn is a song of praise to God.
There are, however, significant differences. The hymn is much more deliberate in how it teaches or shares truth, usually in both a systematic or directly biblical way and also with exquisite and memorable poetry, all of which can help it stand for generations.
The musical raison d'être is also decidedly different. It is to write music in a classic form (Hymnic, classical or traditional folk style) and to be sung by every generation, regardless of age or time.
CP: Why do you believe hymns are timeless?
Getty: I don't.
Only a very few are.
Typically the great ones paint a beautiful picture of God in the human experience with matching unique music, which makes it irresistible to sing.
That's the privilege for us musicians — whether you are a songwriter, arranger, church organist or band leader — to so practice and hone our musical gifts that we help to make Christ look beautiful for everyone at worship on Sunday.
There really is no higher calling for music.
For more information on the upcoming conference and the new album, Sing! Live At The Getty Music Worship Conference, visit GettyMusic.com.