'The Office' star Rainn Wilson blasts 'anti-Christian bias in Hollywood'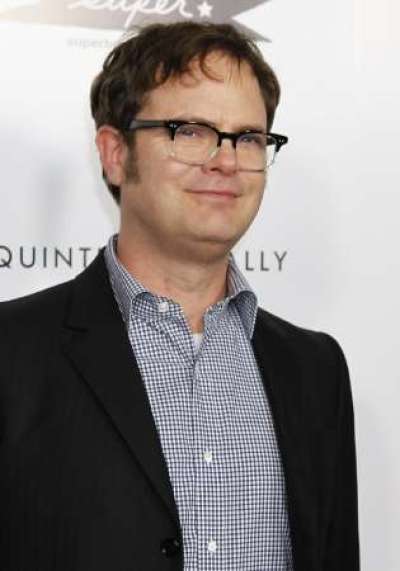 Actor Rainn Wilson is calling out what he says is the latest example of Hollywood bias against Christians in HBO's "The Last of Us."
"The Office" star tweeted his view on "anti-Christian bias" in the entertainment industry Saturday in response to the character of David, a pastor who takes a dark turn in the apocalyptic HBO show.
Wilson wrote: "I do think there is an anti-Christian bias in Hollywood. As soon as the David character in 'The Last of Us' started reading from the Bible I knew that he was going to be a horrific villain. Could there be a Bible-reading preacher on a show who is actually loving and kind?"
Best known for his "Office" role as authoritarian pencil-pusher Dwight Schrute, Wilson's comment was apparently spurred by episode eight of "The Last of Us," based on the video game of the same name.
In the episode titled "When We Are in Need,"  David, who pastors a small church in Wyoming, meets Joel and Ellie (played by Pedro Pascal and Bella Ramsey, respectively). After their initial meeting, David's character takes a dark turn as a cannibal and is even later depicted attempting to sexually assault a young girl.
During that scene, David cites 1 John 4:18, which reads: "There is no fear in love, but perfect love drives out fear, because fear involves punishment. The one who fears has not been perfected in love."
Despite the apparent defense of Christianity, the Emmy-nominated Wilson is not a Christian but in recent years has identified with the Baha'i movement, a relatively young religion which was founded in the 19th century and borrows from the teachings of Jesus Christ, Moses, Muhammad and Buddha to preach spirituality and unity for all beings.
Back in 2012, Wilson made a video mocking former "Two and a Half Men" star and Seventh-day Adventist member Angus T. Jones' video calling the show "filth."
In the short tongue-in-cheek clip featuring himself and his "Office" co-star, Craig Robinson, Wilson said, "Dwight from 'The Office' is nothing, OK? 'The Office' is nothing, alright? If you watch 'The Office,' please don't watch 'The Office.' I'm on 'The Office.' It's filth. And that filth will rot your brain."
He was responding to Jones' initial video, in which Jones admitted that he was a virgin that never drank alcohol and explained further why he was uncomfortable with appearing on "Two and a Half Men."
He said, "It's very weird that I'm on a television show, especially now that I am trying to walk with God. My television show has nothing to do with God and doesn't want anything to do with God."
While allegations of bias against Christians in Hollywood have simmered for decades, a 2016 poll from the Barna Group found that nearly one-third of Republicans — compared with just 5% of Democrats — believe movies and TV shows generally portray Christianity in a negative light.
Despite any real or perceived hostility toward people of the Christian faith, some experts have encouraged Christians to become more active participants in engaging the culture to have a positive influence on Hollywood with the Gospel.
Stephan Schultze, executive director of the cinematic arts department at Liberty University, encourages Christians to become active participants in it. Doing so, he said, will have a profoundly positive influence on the creation of cinema and impact Hollywood with the Gospel.
"[The film industry] has great potential to shape culture," Stephan Schultze, executive director of the cinematic arts department at Liberty University, told The Christian Post in 2018. 
But it can go awry and in the wrong direction and affect culture in an inappropriate way ... filmmakers design and create content that drives traffic to their movie in order to make the next movie. When the film industry is least healthy, it's driving traffic in a way that's unproductive for us to engage in conversation and to care about one another, or it's successfully violent and dehumanizes what it's like to be a human."