'The Stray' Actress Sarah Lancaster: Humans Have a 'Spiritual Connection' With Their Pets (Interview)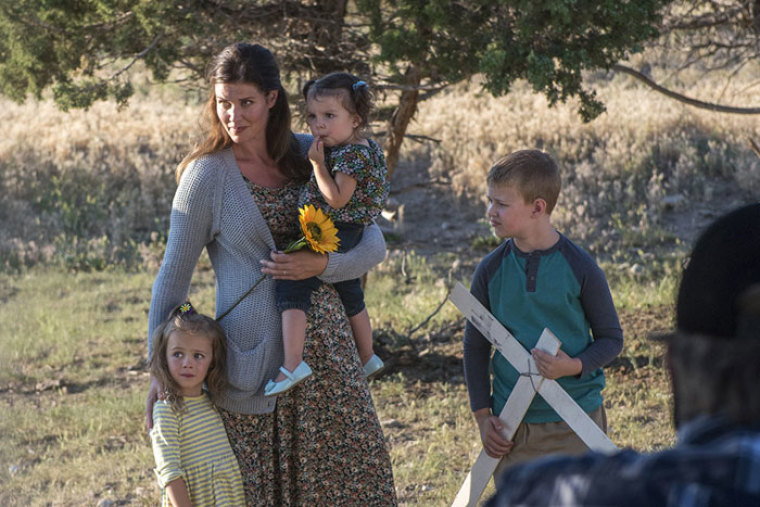 Hollywood actress Sarah Lancaster is best known for her role in the iconic show "Saved by the Bell" and in the NBC comedy series "Chuck". Now, she's taking on a drastically different project, starring in the forthcoming family-friendly film "The Stray."
Written and directed by Mitch Davis ("The Other Side of Heaven"), "The Stray" hits select theaters this October and tells the true story of how a stray dog, "Pluto," enters the lives of a family on the brink of falling apart, forever changing them.
Mitch Davis (Michael Cassidy; "Argo", "Batman v. Superman: Dawn of Justice"), is a career-driven personality who's neglecting his marriage and family. His wife, Michelle Davis (Lancaster) is at her wit's end raising three young kids. When Pluto comes out of nowhere, they're not exactly thrilled about another mouth to feed.
However, it soon becomes evident that Pluto is more than "just a dog"; rather, he's the family's "guardian angel." He saves a toddler, brings comfort and companionship to a hurting 9-year-old boy, helps restore a marriage, and repairs a broken father-son relationship.
"Sometimes help comes from the most unlikely places," notes the film synopsis. "Sometimes our prayers get answered in strange ways. Sometimes one dog can change everything."
In an exclusive interview with The Gospel Herald, Lancaster opened up about playing the real-life Michelle Davis, her own life as the mother of two young sons, and why she believes humans have a spiritual connection with their pets.
GH: "The Stray" is different from the films and shows you've done in the past. What attracted you to this project?
SL: I love pieces about people and what makes them tick. The things that I like to watch in my personal life and what I like to read always take place around people's relationships and family dynamics and how people interact with one another. I loved that this story is exactly that.
GH: Do you have a stray story of your own, or is there a pet that has impacted your life?
SL: I don't have a pet, but I do have two little boys and a husband (laughs). I did have a cat when I first moved to LA to pursue acting in my late teens. I was 18, I was lonely, and my apartment complex wouldn't accept dogs so I got a rescue kitty to be my buddy. Mabel was with me for a long time; she passed away when I was 31, about five months after the birth of my first son, Oliver. My husband always said that she always orbited me, and she always did the same thing with my son. I felt like she was passing a baton.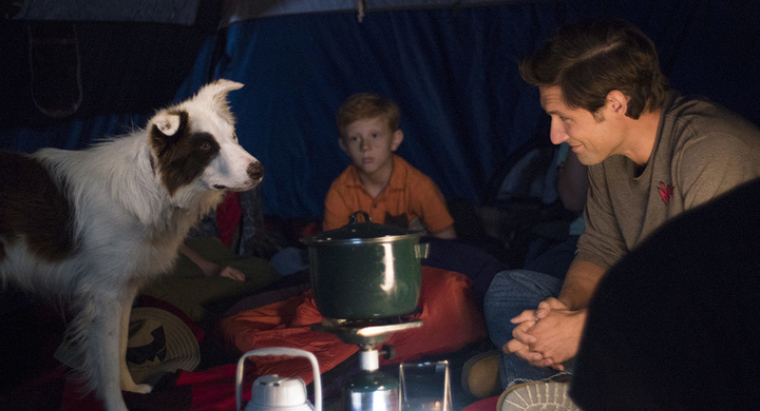 GH: Was it special working on a film based on a true story? What were some elements to that that you liked?
SL: Not only is the film a true story, but you're surrounded by people that the film was about. I got to know the family really well, Michelle was often right by the monitor when I was filming my scenes, and you feel a sense of responsibility when you come to know and love the person you're playing. It was a really unique experience for me.
I didn't discuss it at the time, but I was pregnant with my second son when we shot the film - I found out about six weeks before I went to Utah to shoot. I wanted to do the film, but I kept questioning whether I'd made the right decision. The Davis family, just from the moment of getting off the plane, enveloped me in love and closeness and affection. We went on a hike to get to know each other, and they didn't know I was homesick or what I was going through, and it really meant a lot to me. I knew then that I was where I was supposed to be. The Davis family just really loved on and cared for me.
GH: Are you similar to Michelle in real life?
GH: Michelle's a strong woman, and I think of myself as a strong woman. I love nurturing, I love being a mom - that's my favorite job by far. I think shes a taskmaster; she balances a lot more, her plate was certainly very full. I hope that I'm as good of a mom as Michelle.
But, at the time in which this film takes place, she and her husband are really going through a tough time, whereas my husband is amazing. He's an assistant coach on my son's little league team and is home with us on weeknights. I feel supported and nurtured by him, and it allows me to do projects like this.
GH: This film has a lot of spiritual themes - why do you think we have a spiritual connection with our pets?
SL: It's kind of a magical thing. I'm not sure, but I believe that there is a soul there behind those eyes. There truly is a spiritual connection there. It's really a beautiful thing. It's one of those unexplained things that happens in this lifetime.
GH: What do you think families will take away from this movie?
SL: It's a very sweet story about love, faith, family, and hope. I think that there's a little something for everyone in it, to be honest. I think it will appeal to my six-year-old son as well as to my mom. The dynamics between a husband and wife and the kids and their pet - there's a little something for everyone.