Third Georgia city sued for censoring 'God bless the homeless vets' sign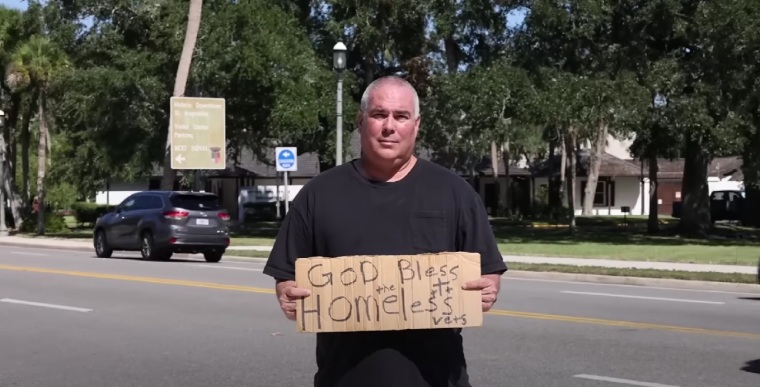 A third city in Georgia has been sued for arresting a free speech activist who peacefully stood outside its city hall and held a "God bless the homeless vets" sign.
Jeffrey Gray filed a lawsuit on Monday against Port Wentworth Police Lieutenant Robert Hemminger in the U.S. District Court for the Southern District of Georgia, Savannah Division.
At issue, according to the complaint, is an incident from 2021 in which Hemminger arrested Gray for obstruction when Gray was holding a sign outside Port Wentworth's City Hall.
"Gray files this suit to vindicate his right to freedom of expression in the open public spaces outside of government buildings like Port Wentworth's City Hall without fear of arrest or prosecution," reads the complaint.
"Hemminger never had cause to eject Gray from a public space, let alone arrest him. Public spaces in front of government buildings are traditional public forums for expressive activity —not, as Sgt. Hemminger wrongly claimed, 'private' property immune from the First Amendment's sweep."
Gray is being represented by the Foundation for Individual Rights and Expression, which previously filed litigation on his behalf against the Georgian cities of Alpharetta and Blackshear.
"No matter how many lawsuits it takes, FIRE will zealously defend what should be an unambiguous right — to peaceably hold a sign in front of city hall," said FIRE attorney Harrison Rosenthal in a statement on Monday.
"We're not just defending Gray's First Amendment rights; we're safeguarding the Constitution — a document that U.S. Army veterans, including Gray, bravely serve to protect."
In response to Gray's lawsuit, the Blackshear City Council agreed in June to amend an ordinance to allow individuals to demonstrate on public streets and sidewalks without needing advanced approval from city officials.
As part of the settlement reached in May, in return for Gray dropping his complaint, Blackshear also agreed to rescind Gray's citation and donate $1,791 to the National Coalition for Homeless Veterans.
"It's a new dawn in Blackshear," said Rosenthal in a statement released earlier this month. "Americans don't need a permission slip to speak in front of city hall. The First Amendment is their permission slip."
The litigation with Alpharetta is still ongoing.