'This Is Winter Jam' One Night Movie Event Showcases World's Largest Christian Music Tour (Review)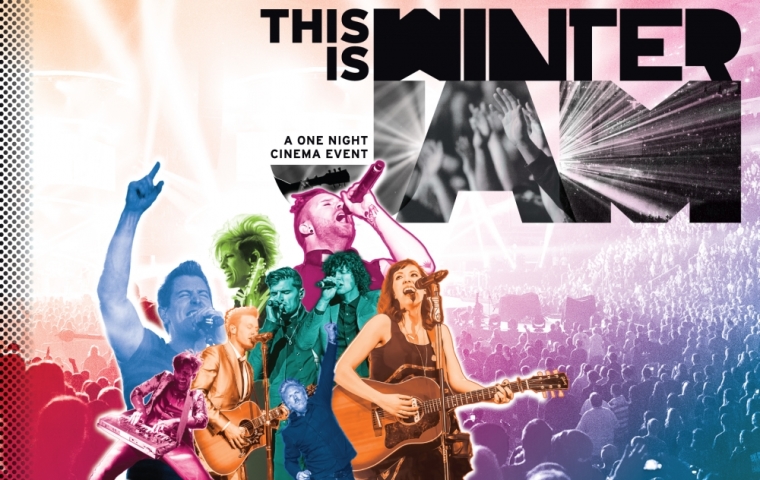 In theaters for one day only, the movie "This Is Winter Jam" gives fans a behind-the-scenes look into the world's largest Christian concert tour and reveals why it's a massive success at winning over the hearts of thousands for Jesus.
Filmed over two years, moviegoers will get an exclusive look at Winter Jam, founded and hosted by Newsong, which has provided a powerful platform for the Gospel of Jesus Christ in major arenas nationwide since 1995.
The idea behind Winter Jam first came about when the band made a bold step of faith to venture outside of the church to reach more people.
Broken into seven parts, the film takes viewers on a step-by-step journey of the tour. It kicks off with Eddie Carswell of Newsong explaining the history and initial push back they faced when they first proposed the idea. He said they charged $3 at the door after being told no one would show up to a Christian concert in the middle of winter. To their surprise, however, 6,500 people showed up to the first show and that was the birth of Winter Jam.
"This Is Winter Jam," commences with an explosive performance by Skillet rocking out to "Not Gonna Die." The concert is fully loaded with pyrotechnics and the band's hard rock'n' roll vocals sets the tone for the movie as they end with a performance of "Sick of It."
As the flick progresses, Roy Morgan, the promoter of Winter Jam, emotionally shared that from the beginning he saw the favor of God on the tour. "That is the story of Winter Jam, God meeting our needs when we didn't think they could be met," he said.
"This is Winter Jam" features testimonials from some of the biggest names in Christian music such as Tobymac, Michael Tait, Skillet, Trip Lee, Matthew West, for King & Country, Francesca Battistelli, Crowder, Jeremy Camp, Family Force 5, Building 429, Lauren Daigle, Red, Sidewalk Prophets, and Colton Dixon, among others.
Christian pioneer Tobymac revealed that he first heard of Winter Jam from his former DC Talk band member Michael Tait. The epic concert was started in one city and is now performed in 57 cities. Last year the tour played to more than 700,000 people across the country, shattering previous attendance records.
The sneak peak into the production of Winter Jam highlights only one performance from the men behind it all, Newsong. With only a handful of appearances in the film and a passionate performance of the worshipful tune "Arise My Love," viewers get a glimpse of the heart behind their motives for the tour and why God has honored them throughout the years.
Upon screening the film it is clear that Winter Jam provides a great atmosphere of unity, community, the occasional healthy burst of competitiveness with its backstage sports activities (arcade, ping pong, etc.), and focused spiritual nourishment.
"It [Winter Jam] tears down all the walls and it lets us just be human together," said newcomer Lauren Daigle.
"This is Winter Jam" also spotlights a performances from Family Force 5 singing "Chainsaw" with their colorful suits, energetic performance, huge bouncing balloons and quirky dance moves. Building 429 is also featured in the film seen in their shiny silver suits singing "Impossible." The movie also includes the live performances of "Fix My Eyes" and "Proof of Your Love" from for King & Country.