Protester in Donald Trump Attack Says He's Christian, Not ISIS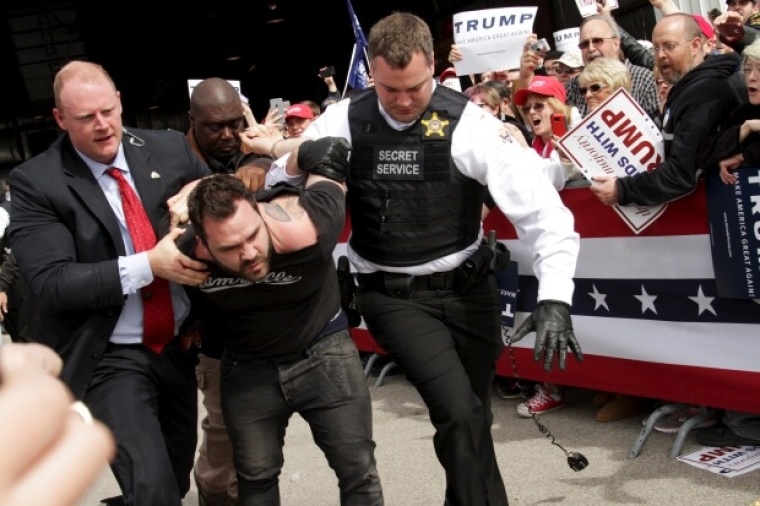 New extended video of an attempted attack on Republican presidential frontrunner Donald Trump at a rally in Dayton, Ohio, on Saturday shows the real estate mogul almost clashing with a suspected student activist who says he's a Christian and has no affiliation with the Islamic State.
Earlier footage of the incident show the brash-talking billionaire reacting as a disturbance apparently broke out behind him forcing Secret Service agents to jump on the stage and form a protective wall around him.
A new video with a better angle on what caused the disturbance shows a man who says he is a "Christian" jumping a barrier and passing several security guards before he is quickly apprehended as he charged toward Trump.
Chief Mike Etter of the Dayton Airport Police Department told NBC News that the suspected attacker was identified as Thomas DiMassimo, 32, and was charged with disorderly conduct and inducing panic which are both misdemeanors.
Warning: This video contains vulgar language heard from members of the audience.
DiMassimo, who hails from Cobb County Georgia, later told CNN that he wanted to send Trump a message and had no intention of hurting the real estate mogul.
"I was thinking that I could get up on stage and take his podium away from him and take his mic away from him and send a message to all people out in the country who wouldn't consider themselves racist, who wouldn't consider themselves approving of what type of violence Donald Trump is allowing in his rallies, and send them a message that we can be strong, that we can find our strength and we can stand up against Donald Trump and against this new wave he's ushering in of truly just violent white supremacist ideas," DiMassimo said.
"I was thinking that Donald Trump is a bully, and he is nothing more than that. He is somebody who is just saying a lot of bold things, he's making bold claims. But I can see right through that and I can see that he's truly just a coward. And he's opportunistic and he's willing to destroy this country for power for himself," DiMassimo added.
Trump later tweeted that DiMassimo is a "maniac" with ties to ISIS and thanked the Secret Service for protecting him.
"USSS did an excellent job stopping the maniac running to the stage. He has ties to ISIS. Should be in jail!" the billionaire tweeted.
DiMassimo denied having any ties to IS, and told CNN that he is a "Christian."
"When asked whether he was a Christian, he said he was," noted CNN on DiMassimo.
Trump said at the Ohio rally that he decided to cancel the event because he "didn't want to see anybody get hurt."
Last April, DiMassimo, who's a student at Wright State University in Dayton, Ohio, and a Bernie Sanders' supporter, was caputured standing on the U.S. flag and dragging it on the ground as part of a protest.
"You would have had a problem like you haven't seen in a long time," Trump said. "It was determined that if we go in, it could cause really bad, bad vibes."
Five people were arrested and two officers were injured amid the clashes, according to NBC.
Trump said the protesters that forced the cancellation of his Chicago rally were supporters organized by the campaign of Democratic presidential candidate Bernie Sanders who vehemently denied the accusation.
"We want to get along with everybody. But when they have organized, professionally staged wiseguys, we've got to fight back," said Trump to his supporters in Ohio.
Sanders, however, called Trump a "pathological liar" for blaming the protests on his campaign.
"As is the case virtually every day, Donald Trump is showing the American people that he is a pathological liar. Obviously, while I appreciate that we had supporters at Trump's rally in Chicago, our campaign did not organize the protests," Sanders said in a statement Saturday.
Trump however volleyed the accusation right back at Sanders in a tweet on Sunday saying: "Bernie Sanders is lying when he says his disruptors aren't told to go to my events. Be careful Bernie, or my supporters will go to yours!"