Tim Kaine Tries to Reconcile Christian Faith With LGBT Support; Believes Catholic Church May Embrace Gay Marriage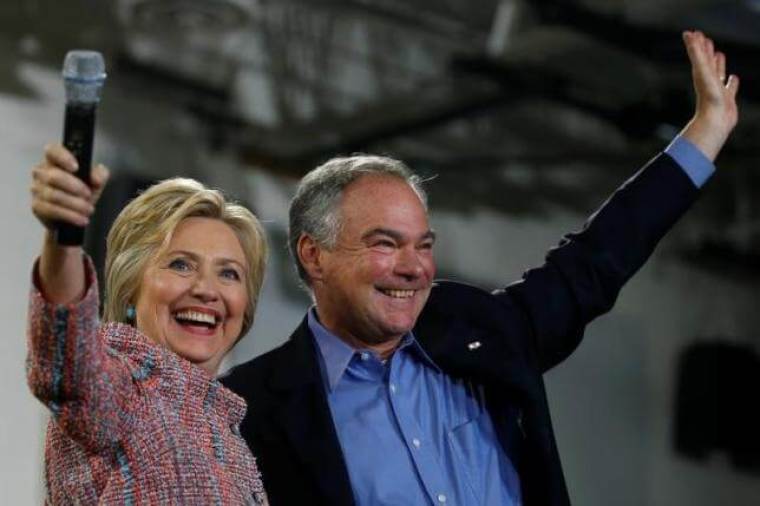 Democratic vice presidential nominee Tim Kaine has tried to explain in a recent speech how he reconciles his Christian faith with his support for LGBT issues, and suggested that the Roman Catholic Church, which he is a member of, may one day embrace gay marriage too.
"As a devout Catholic, for a long time while I was battling for LGBT equality, I believed that marriage was something different," Kaine said at the 20th annual Human Rights Campaign dinner in Washington on Saturday, according to CBS News.
"I had a difficult time reconciling that reality with what I knew to be true from the evidence of my own life, with the teachings of the faith that I had been raised in for my entire life," he added.
The Virginia senator suggested that, in his interpretation of the Bible, homosexual acts aren't sinful. He further suggested that one day the Catholic Church may also come out in support of same-sex marriage.
"I think it's going to change because my church also teaches me about a creator who surveys the entire world, including mankind, and said it is very good," he added, according to The Associated Press.
"Pope Francis famously said 'Who am I to judge,' and to that I want to add 'Who am I to challenge God for the beautiful diversity of the human family?' I think we're supposed to celebrate it, not challenge it."
Francis has remained supportive of the traditional definition of marriage between one man and one woman throughout his papacy, though he has urged Christians to show gay people the way and walk with them.
The Vatican leader has said that he supports compassion and inclusion, but not changing traditional Catholic teachings on marriage.
"You can advise [gay people] to pray, show goodwill, show them the way, and accompany them along it," the pope said in an interview in January.
He added: "The Church does not exist to condemn people, but to bring about an encounter with the visceral love of God's mercy."
Still, Francis rejected what he called "a formal adherence to rules and to mental schemes," and said that "mercy is the first attribute of God."
While Kaine and Hillary Clinton, the Democratic nominee for president, are both in support for gay marriage, rival nominee Donald Trump of the Republican Party has said that he would seek to unite America by appointing Supreme Court judges that would be ready to overturn the Supreme Court's decision that legalized same-sex marriage nationwide in 2015.
"It has been ruled upon, it has been there, if I'm elected I would be very strong on putting certain judges on the bench that I think maybe could change things. They've got a long way to go. At some point we have to get back down to business but there is no question about it and most people feel this way," Trump said earlier this year in an interview.
Trump insisted that the individual states should have the right to decide on their own whether to legalize gay marriage or not.
"This was a very surprising ruling and I can see changes coming down the line quite frankly. I would have much preferred that they ruled at a state level and allowed the states to make those rulings themselves," the Republican nominee added.