Tim Keller's New Book 'Every Good Endeavor' Reminds Christians of God's Call
The Rev. Timothy Keller of New York's Redeemer Presbyterian Church is releasing a new book on Nov. 13, which examines how God calls upon people to express meaning and purpose throughout their works and careers.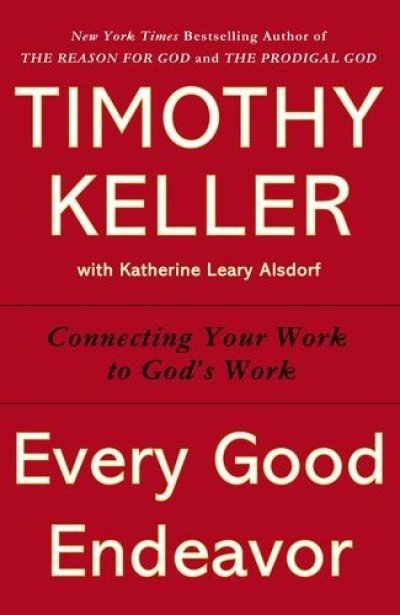 Every Good Endeavor: Connecting Your Work to God's Work follows up other best-selling titles by Keller, which include The Reason for God and The Skeptical Student. The pastor's work is often focused on counseling students and young professionals, as well as senior leaders, about the importance of their choices and works in life. His latest book examines some key aspects related to that theme in greater detail, offering a Biblical perspective on questions such as:
• What is the purpose of work?
• How can I find meaning and serve customers in a cutthroat, bottom-line-oriented workplace?
• How can I use my skills in a vocation that has meaning and purpose?
• Can I stay true to my values and still advance in my field?
• How do I make the difficult choices that must be made in the course of a successful career?
Promising deep and often surprising advice, Keller's new book maintains that Christians are called firstly to serve others, not themselves, which provides for a balance in their personal and professional lives.
"Keller shows how excellence, integrity, discipline, creativity, and passion in the workplace can help others and even be considered acts of worship-not just of self-interest," a statement on the book reads.
Most recently, Keller was directly involved in relief efforts for Hurricane Sandy victims in New York City.
"We have an opportunity to tangibly live out our current sermon series on generosity – to give of ourselves relationally, hospitably, and financially in life-transforming ways," Keller told his congregation in the wake of the deadly storm that killed close to 100 people in the New York tri-state area.
"Check in with your neighbors, friends and church members to see if they are in need."
Keller reminded the congregation that the second greatest commandment Jesus identified after loving God was loving one's neighbor – and that now was the time to really help people who are facing a crisis and struggling.
Redeemer Presbyterian Church, which has three campuses in New York, recently launched worship services in downtown Manhattan, which was one of the worst hit areas in the city by the storm.